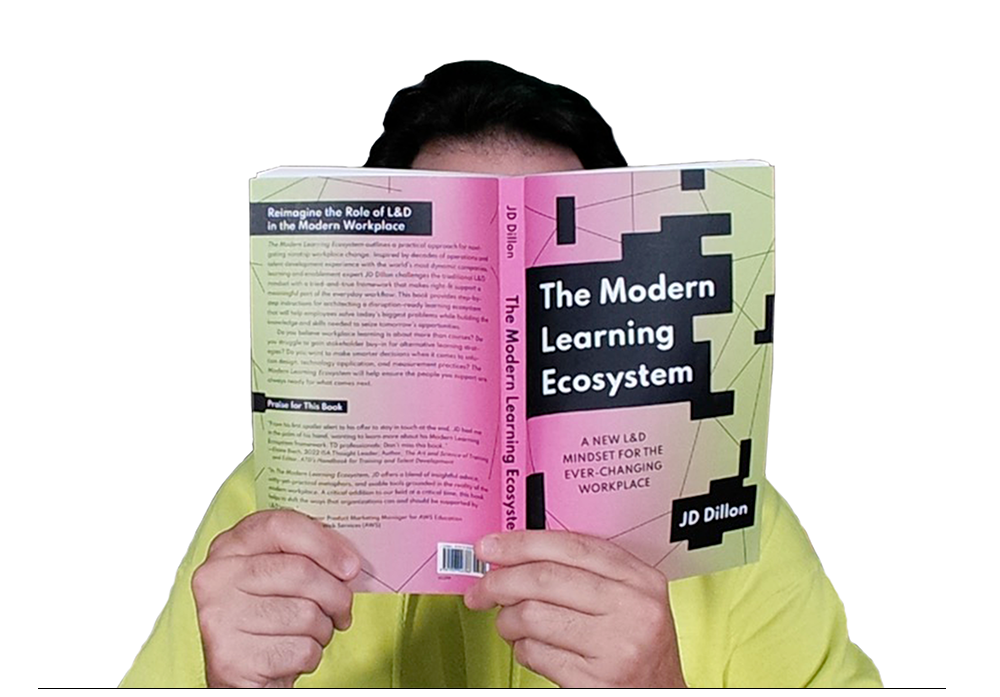 The Modern Learning Ecosystem READ ALONG!
The Modern Learning Ecosystem - A New L&D Mindset for the Ever-Changing Workplace is my personal, practical, humorous take on the role L&D must play to enable performance and drive business results. Now you can read the book with me on-demand with the industry's first-ever READ ALONG!
Grab your copy of The Modern Learning Ecosystem - available in paperback and digital wherever awesome books are sold.
Decide if you want to read the book by yourself or with a group, like a book club or work team.
Watch the Introduction to the 8-part READ ALONG video series.
Watch each section video before diving into the corresponding book chapters.
Use the Discussion + Reflection questions to reinforce key points before moving to the next section.
Have an awesome time!
Let JD know what you think about the book and the READ ALONG concept.
Thanks for supporting The Modern Learning Ecosystem and everything you do to help people build the knowledge, skill and confidence they need to do their best work every day.
Get the backstory and full instructions before starting our MLE READ ALONG.
Find out why I decided to write The Modern Learning Ecosystem as we start our READ ALONG by exploring the modern learning mindset in chapters 1 (It's Time for a Remix), 2 (Down the Rabbit Hole) and 3 (The Proof Is in the Plumbing).
Chapter 1 - It's Time for a Remix
Which models or frameworks do you leverage in your learning practices? How well do they align with the modern realities of the workplace you support?
Chapter 2 - Down the Rabbit Hole
When was the last time you felt like the coyote - unable to reach your goal due to the pace of change within your organization?

What's the official name of your company's L&D function? What do employees outside of L&D call it?

What factors cause L&D solutions to be viewed as disruptions from work rather than meaningful parts of it?

How often must people visit L&D-managed tools as part of their everyday work?

Which tools that are not L&D-managed do people regularly use to support their performance?

What data do stakeholders use to measure business effectiveness?

How can L&D leverage this data to become more proactive and results-focused?

Which group(s) receive the most learning and support opportunity? Which receive the least? Why?

How do you communicate the business impact of L&D solutions?

How long does it take to deploy a typical L&D solution? How does this timeline compare with business and employee needs?

How is the opportunity gap - aka lack of learning equity - exacerbating skill gaps within your organization?
Chapter 3 - The Proof Is in the Plumbing
Which of the "Six Tasks of L&D" does your organization do well today? With which tasks are you less effective?

How do you define the term "learning ecosystem?"

Stack the layers of your "House of L&D." Which layers act as your foundation? Which are most often deprioritized? Why?

How do your peers view the role of L&D within your organization right now? Do they think you're Batman or Alfred? Why?
It's time to set the foundation of The Modern Learning Ecosystem Framework so people can access the shared knowledge (chapter 4) and performance support (chapter 5) they need on the job.
Chapter 4 - Layer 1: Shared Knowledge
Share an example of a time when you were required to deliver structured training when the problem could have been solved more quickly with a shared knowledge resource? Why did the organization default to a training-first approach?

How much of your organization's knowledge is documented in an easily-referenced way?

Which topics are well-documented? Which topics are lacking resources?

How do people typically share their knowledge within your organization?

How can you leverage these channels to enable performance?

How would designating an official curator improve your organization's shared knowledge practices?
Chapter 5 - Layer 2: Performance Support
How do you explain the difference between shared knowledge and performance support?

How do you determine when information must be retained (need to know) vs when people may lean on performance support to complete a task (nice to know)?

What performance support channels - digital and analog - are available within the workflow today?

How do you ensure people can trust information accessed via performance support channels?
Let's complete the Modern Learning Ecosystem Framework by filling in the need-to-know layers, including Reinforcement (chapter 6), Coaching (chapter 7) and Push/Pull Training (chapter 8).
Chapter 6 - Layer 3: Reinforcement
How often is reinforcement included as part of your L&D solutions? Why is reinforcement sometimes/often not provided?

Share an example of an L&D solution that included the opportunity for people to practice applying their knowledge and skill in a safe, feedback-rich environment? How did the added practice impact their job performance?

Share an example of how you apply the following learning science principles within L&D solutions?

Retrieval practice

Spaced learning

Interleaving

Metacognition

Confidence-based assessment
Chapter 7 - Layer 4: Coaching
How do you measure coaching effectiveness within your management team?

What data and insights do managers need to effectively coach their team members day-to-day?

How do you support ongoing manager skill development - beyond structured development programs?

How are you helping managers make coaching an everyday priority?
Chapter 8 - Layers 5 and 6: Pull and Pushing Training
How do you determine when training is required (push) or voluntary (pull)?

Which microlearning principles inform your current L&D strategy? Which are not currently considered when designing L&D solutions?

How often do you reassess your regulatory, mandatory and job training to make sure existing solutions fit the current needs of your organization?

What criteria do you use to determine if you should build, buy or borrow training content?
We're shifting from concept to application with chapter 9 (Applying the MLE Framework) as we use what we've learned to solve new problems in familiar ways. Then we explore a chapter full of real-world(ish) MLE case studies (MLE in action).
Chapter 9 - Applying the MLE Framework
Break down the persona attributes for one of your L&D audiences, including:

Function

Foundation

Scale

Time

Location

Access

Motivation

Measurement

How do you help stakeholders identify a specific metric when discussing the desired result of an L&D solution?

How do you define what people are expected to do as a result of an L&D solution? How do you measure change in this behavior after the solution is delivered?

Apply the Modern Learning Ecosystem Framework to a recent L&D project. Which layers would you have activated? Which tactics would you have applied within each layer?
Chapter 10 - MLE in Action
Which MLE example project most relates to your organization and the problems you face?

Which tactic(s) will you borrow from these "inspired by real life" examples?
We finally made it to the technology part of the book with chapter 11 (Making Good Technology Decisions). Then, we figure out what it takes to get past level 2 in learning measurement in chapter 12 (The Data Side of the Story).
Chapter 11 - Making Good Technology Decisions
List all of the digital tools people within your organization use to support their performance. Where would they rank L&D-managed tools, such as the LMS or LXP, in terms of importance in their day-to-day work?

Which of the "7 reasons to apply learning tech" do you consider today as part of your digital strategy? Which factors are not taken into account? Why?

Why would you ever consider building your own learning technology?

Which technology integrations are essential within your learning technology stack? Why?

Which integrations would help you significantly improve the digital experience for employees, managers and/or administrators? Why?

Is your current learning technology providing enough value to justify the cost in terms of licenses, effort, education, etc.? What metrics did you use to determine this value?

Do you feel up-to-date regarding the latest changes in the learning technology marketplace? Why or why not?
Chapter 12 - The Data Side of the Story
Grade the effectiveness of your L&D practices on a scale from 1 (poor) to 5 (excellent). Why did you select this grade?

Which model(s) do you use to guide your learning measurement strategy? Why did you select this model?

List the metrics you use to communicate L&D's impact to stakeholders. What percentage are business metrics? What percentage are L&D metrics?
I saved the best for last with chapter 13 (Mastering the Game of Influence) - the most important chapter of the book. Plus, we'll talk about what comes next as you look to architect your own modern learning ecosystem (Making the Shift).
Chapter 13 - Mastering the Game of Influence
Which stakeholder(s) is the most difficult to work with in your organization? Which is the easiest? Why?

Select one stakeholder. Answer the following questions to guide your influencing strategy:

What do they care about?

How are they held accountable?

How are they motivated?

What's their experience with workplace learning?

How can you provide value?

Share an example of how you've applied an influencing tactic, such as a case study, peer story or outside expert, to help a stakeholder think differently about the role of learning within your organization.
Chapter 14 - Making the Shift
List 3 actions you will take over the next 6 months to strengthen your learning ecosystem as a result of reading this book.
That's a wrap on The Modern Learning Ecosystem - but your story is just beginning! Find out how you can continue exploring MLE principles and join my next READ ALONG series.