Gartner introduced the hype cycle to track the common path of new technologies – from creation and promise to disillusionment and meaningful application. Not every innovation follows this exact path, and technologies may move through the cycle at radically different speeds. Nevertheless, it's a pretty nifty way to visualize society's overall ability to make sense of new tools over time.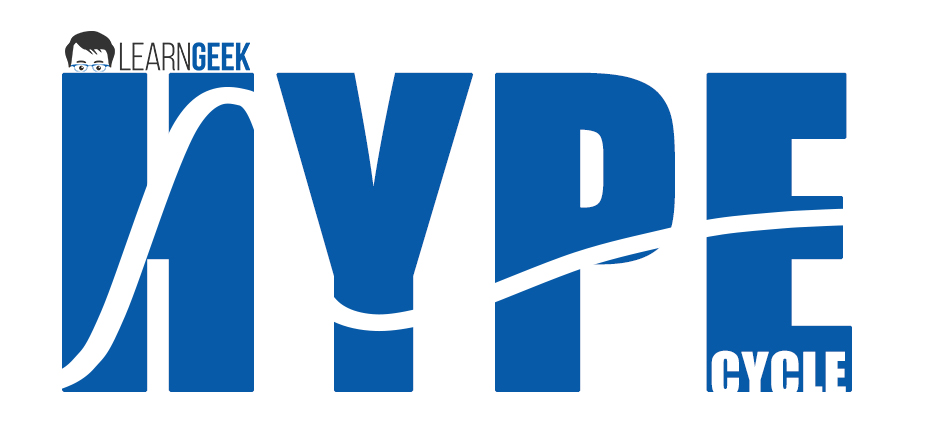 Every year, LearnGeek puts together our own hype cycle for workplace learning topics. We visualize the disparity between "thought leadership" and frontline reality when it comes to the latest industry trends. Conference sessions and blog posts can make it seem like the industry is progressing A LOT faster than it really is. Most influencers don't have to deal with the hectic, stifling, day-to-day realities of the corporate world. Furthermore, L&D topics are often discussed in isolation rather than as an integrated evolution of the profession as they should be. Using the Gartner model as inspiration, LearnGeek leverages our ongoing research and observations to plot the progress of the twenty most-discussed L&D concepts.
Here's the 2021 version of the LearnGeek Hype Cycle for Emerging Workplace Learning Concepts.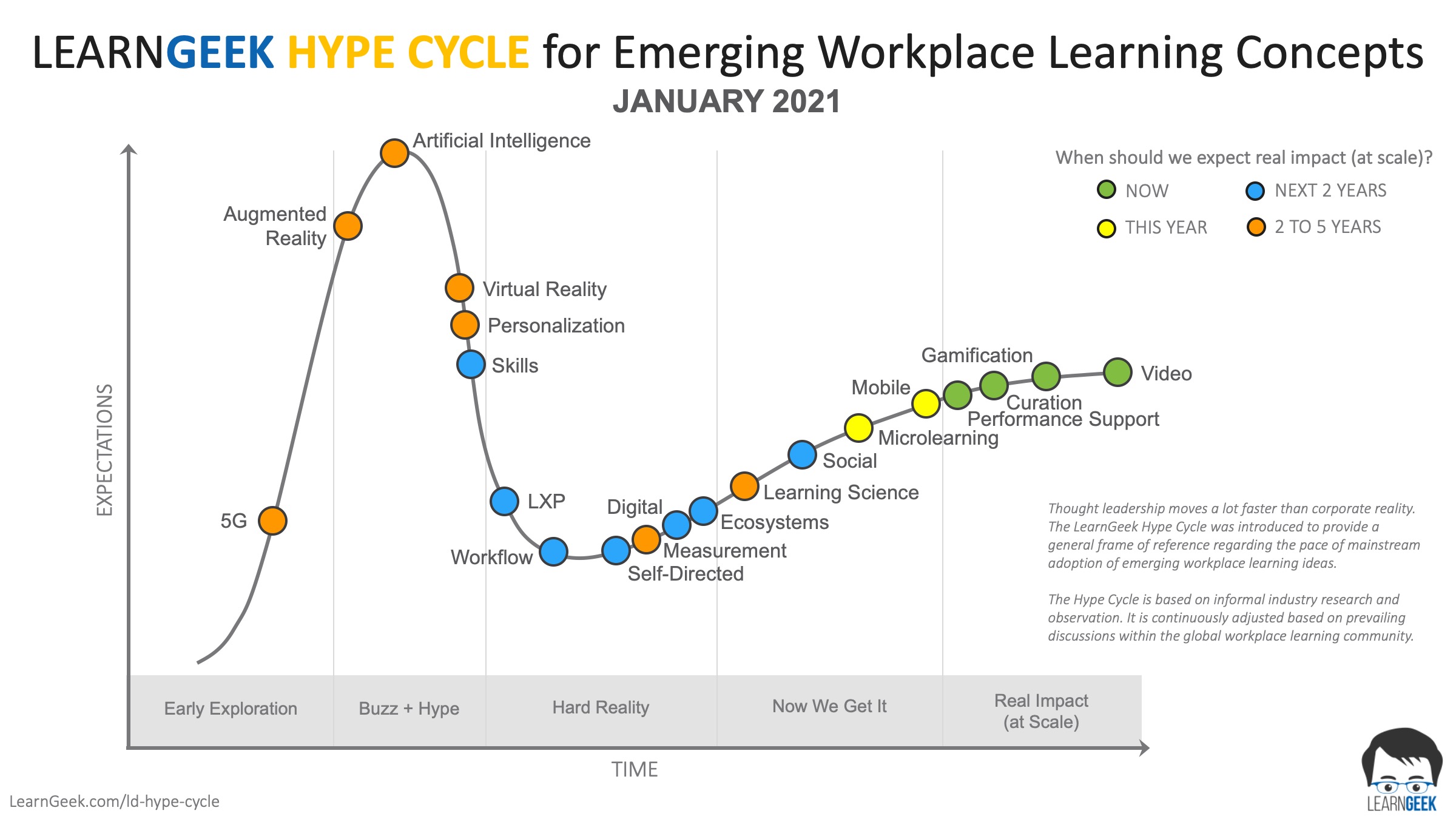 Each workplace learning topic is positioned within one of five states along the hype cycle curve.
Early Exploration. The conversation is just getting started. There's great potential, but we haven't seen much in terms of real application beyond niche use cases and experiments.
Buzz + Hype. The concept is everywhere. There's lots of hype from vendors and influencers. However, the concept and its ultimate value in the workplace are not well defined.
Hard Reality. The early adopter party is winding down. L&D pros are starting to figure out what's real and what is just hype. This is where the work really begins.
Now We Get It. The buzz is over. Now, it's time to apply proven principles and practical ideas so we can demonstrate real value.
Real Impact. We finally know what this concept is. It works at scale in real life, and we can prove it.
Topics progress along the curve at varying rates and may regress depending on their real-life application.
The LearnGeek Hype Cycle is an informal industry assessment. It is not based on research studies, interviews or surveys. We combine our 20+ years of field experience with peer conversations, ongoing literature reviews and, ultimately, gut instinct. Our goal is not to predict the future or be 100% accurate. Things are going to change unexpectedly, and we'll miss the mark plenty of times. Nevertheless, we hope this process provides a useful, practical and holistic perspective on how the L&D profession is evolving and facilitates meaningful conversation about how we can all improve our work.
---
Real Impact
Video
This is probably the final appearance for this concept on the hype cycle. Almost every L&D team uses video. Sometimes it's for user-generated content. Sometimes it's part of a formal eLearning module. Production and delivery technologies are no longer major hurdles. This doesn't mean every L&D team is good at video, but they all have the opportunity to improve.
Gamification
L&D has moved beyond the basics. Teams are applying dynamic motivation and recognition strategies that fit their workplace cultures. Everything we've learned over the past 10+ years about gamification will come in especially handy as L&D figures out the skills narrative and seeks to recognize employees for their progress and capabilities.
Curation
Traditional instructional design cannot keep up with the pace of business change. Curation can. It has become especially important as people relearn how to do their jobs and take on new roles. L&D is leveraging a new-found curation mentality to bring together formal training, user-generated content and third party materials to help employees get ready for whatever comes next.

Performance Support
This is now an essential component of a modern learning strategy. Performance support has and will continue to play a critical role in helping employees from every industry shift how they do their jobs in the face of disruption. The past year has shown how important it is to make sure everyone knows how to raise their hands and get help.
---
Now We Get It
Mobile
This may be the year for mobile learning. People stopped traveling and commuting in 2020. When some of this mobility resumes, L&D has an opportunity to shift their digital learning strategy along with it. At the same time, companies are finally letting employees, including frontline workers who cannot work from home, use their own devices at work as they reap the benefits of a digital employee experience while avoiding unnecessary hardware costs. This is especially true outside of North America, where mobile access to workplace information is table stakes.

Microlearning
It took 4+ years but L&D has finally moved beyond the microlearning hype! It's not about how long something should be or chopping longer courses into smaller chunks. Teams are more focused than ever on delivering right-fit training that solves specific performance problems. The term "microlearning" is still popular but not thrown around nearly as much. When it is, the conversation is focused on proven principles instead of marketing buzz. Real-world microlearning impact at scale is very, very close.

Social
Social took on an entirely new meaning in 2020 as people were forced to collaborate in new ways to get work done. Conversation tools like Slack and Teams are now central components of the workplace ecosystem. Frontline and deskless workers are adopting digital tools to replace antiquated posting boards and team meetings. Rather than talk about "social learning," more L&D pros are exploring integrated ways to help people find information and share their knowledge. There's still a gap between how we perceive learning and communication in the workplace, but that gap is closing quickly out of necessity.

Learning Science
More L&D pros are differentiating between reality and myth when it comes to learning science. Proven concepts, such as reinforcement, practice and reflection, are more widely-discussed than any time in recent memory. The gap remains with the HOWs. L&D must continue to adjust their support strategies to better integrate the unavoidable realities of learning science.
---
Hard Reality
Ecosystems
L&D is almost ready to make the transition! More and more organizations are realizing that a single tool or tactic is not enough to support complicated workplaces and evolving skill requirements. A targeted platform may do the job for a specific audience, but L&D cannot keep up with the needs of a global enterprise by relying solely on their LMS or LXP. L&D pros are increasingly emphasizing the importance of integrations and partnerships when exploring new technologies. They must continue to adopt a holistic vision of workplace learning so they can effectively architect and maintain agile ecosystems.
Digital
This is the only concept that slid backwards down the curve from last year. Digital encompasses the spectrum of technology-enabled delivery methods, including virtual classrooms and eLearning. Digital learning definitely exploded to unprecedented levels this year as people shifted to working from home. However, most of that explosion came from teams moving their classroom and job training sessions online. L&D didn't have time to reimagine digital learning within the new workplace reality. Admirably, they did the best they could with the resources available. Now, L&D must assess what did/not work and leverage this insight to push digital learning forward as the workplace continues to adapt.
Measurement
Measurement only moved slightly over the past year. Disruption has again reminded L&D just how important measurement is if they want to make sure their solutions are working and communicate their value to stakeholders. They know they need to fix their data practices. There's some good conversation taking place, especially as related to AI and skills. However, L&D is still trying to make traditional measurement models work. L&D needs help from internal and external partners to implement a continuous approach to measurement and integrate their data efforts with the larger workplace data story.
Self-Directed
This topic is directly influenced by several other concepts on the curve, especially digital, workflow and skills. L&D has recognized that more content does not equal more learning. They have also realized that talent development is not a predictable, linear path. Therefore, the self-directed pendulum is now swinging back towards an improved balance of push and pull offerings, especially for audiences that have clear goals but no time/motivation to search through catalogs for development activities.
Workflow
This would be our buzzword of the year if the "skills" conversation hadn't exploded over the past 18 months. Learning in the flow of work ... Workflow learning ... Whatever you want to call it ... has become a consistent topic of discussion as L&D pros try to figure it out within the context of the modern workplace. Does it literally mean learning while you work? Does it mean making training more accessible within the workflow? Is it both? And how does this approach help people keep up with rapid organizational change when they barely have time to do their jobs as it is? It's time to stop debating and start applying proven principles to make learning an essential, integrated part of the everyday working experience.
LXP
Several LXPs are no longer referring to themselves as "LXPs." That tells you the hype has faded. However, it's not time to retire the term just yet. L&D rightfully remains focused on making digital experiences more engaging, simple and integrated. As a result, legacy LMS platforms are adopting LXP features and new providers are pushing the tech boundaries even further. L&D pros continue to debate the merits of a "front door" approach to learning tech. Will LXP become a long-standing industry term? Probably not.
---
Buzz + Hype
Skills
This is easily the biggest HR trend right now, and it's only going to get bigger in 2021. Skill-based learning. Skill clouds. Skill marketplaces. Skill-based hiring. Reskilling. Upskilling. The term "skill" is everywhere and for good reason. Work changed in 2020. L&D must evolve their approach to keep pace with rapidly evolving skill needs. But a big question remains: how is the skills movement any different from the competency models HR has been trying to make work for the past 20+ years? We're going to find out very quickly as hype transitions into reality.
Personalization
This is still an inconsistently-defined term within L&D. Personalization could mean anything from algorithmically-driven adaptive learning to user-driven self-directed learning. We use it as an umbrella term to refer to a range of tactics that can be used to provide right-time, right-person, right-fit support. L&D has recognized the potential value of personalization. However, application will continue to lag until complementary concepts, including measurement and AI, progress in meaningful ways.
Virtual Reality
If VR was going to have a breakout year, it would have been 2020 with people stuck at home and forced to physically distance at work. That didn't happen. The hardware is less expensive and more mobile, but content is still expensive and hard to build. There are plenty of great niche VR applications, especially to simulate dangerous and uncommon situations. However, the wide-scale application of VR as a standard L&D tool looks increasingly unlikely.
Artificial Intelligence
AI is rapidly becoming a foundational component of workplace technology, including learning tech. HR is implementing AI to accelerate and scale talent acquisition. However, L&D hasn't quite found the connection between AI and digital learning transformation beyond basic use cases, such as chat bots and content recommendations. Plus, data is still a big problem. That said, two books on AI in learning were published in 2020, and we continue to share practical insights and resources. It's not a matter of IF AI will have huge impact on L&D. It's just a matter of WHEN ... and the WHEN will be SOON.
Augmented Reality
We continue to see niche AR applications, especially in manufacturing and field service. However, the enabling hardware, such as smart glasses and visors, are still basic and expensive. AR will continue to lag behind other trends until consumer technology and applications catch up. As long as you have to launch an app and hold a mobile device in front of your face to overlay information onto a real-world setting, performance support applications will be rather limited.
---
Early Exploration
5G
The 5G we've been waiting for is here ... if you believe the marketing messages from the telco industry. In reality, you have to stand on a specific street corner in a major city and hold your new smartphone in the air to access a 5G network. The increased speed, reduced latency and improved capacity of 5G will soon power an assortment of digital workplace transformation efforts. Consumer devices are rolling out quickly, but the infrastructure, including public and private networks, are still lagging behind ... for now. We won't have a real idea of how 5G will impact learning until more pieces fall into place around the world.
---
NOTE: We thought the idea of an L&D hype cycle was unique. We were incorrect. Web Courseworks has also published a series of hype cycle posts, and we wanted to be sure to give them proper credit.