Thought leadership moves a lot faster than workplace reality.
Gartner introduced the hype cycle to chart a common path for new ideas and technologies – from creation and promise to disillusionment and meaningful application. Not every innovation follows this exact path. Technologies move through the cycle at radically different speeds. Nevertheless, it's a pretty nifty way to visualize society's ability and willingness to adopt new concepts.
The LearnGeek Innovation Cycle is an annual benchmark for emergent workplace learning practices. By visualizing the disparity between industry hype and operational reality, it helps L&D pros assess their current practices and identify innovation opportunities within their organizations. The Innovation Cycle provides a snapshot of the profession's collective progress, bringing together topics that are often discussed in isolation.
I curated the January 2023 edition of the report below using a combination of ongoing research, informal observations and practical insights from industry professionals around the world.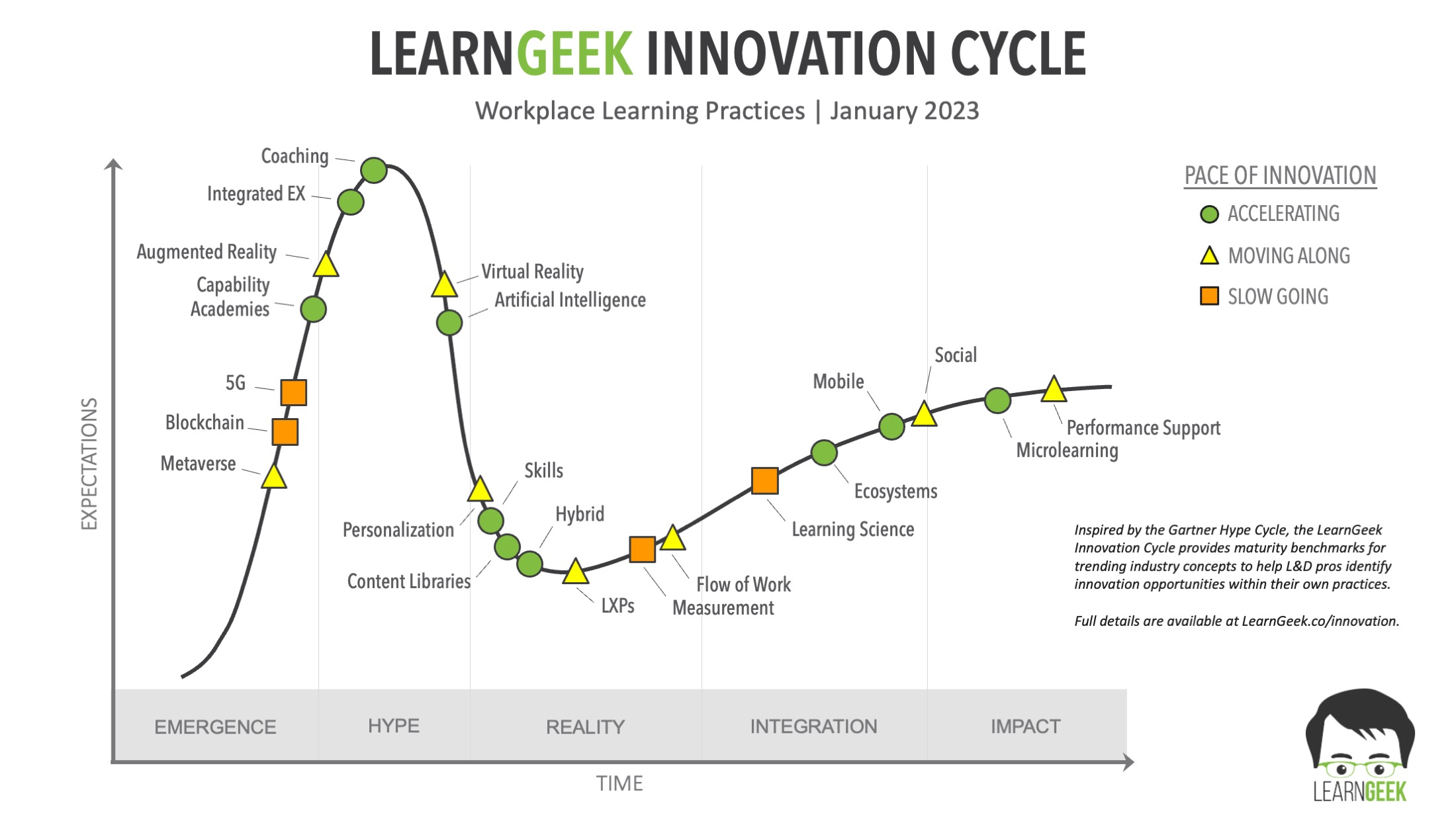 EMERGENCE: The conversation is just getting started. There may be potential, but we don't really know what the idea is or how it may impact workplace learning practices. Expect lots of experiments and BIG IDEAS.
HYPE: The topic is EVERYWHERE! There's lots of noise coming from vendors promising the future of the profession. However, practical use cases and success stories are still limited.
REALITY: Innovation just slammed into real life. The early adopter party is over. Now it's time to figure out how real this concept is. Some practices never make it past this phase.
INTEGRATION: No more buzz. It's time to integrate the concept into everyday practice and validate it's ability to deliver value.
IMPACT: It works - at scale! Now this innovation is just something L&D professionals do as part of their standard practices.
Concepts progress along the curve at varying rates. Some may regress over time based on real-world circumstances.
The LearnGeek Innovation Cycle is an informal assessment. I blend my 20+ years of field experience with ongoing peer conversations, literature reviews and gut instinct. I'm not trying to predict the future with 100% accuracy. Instead, I hope to provide a simple, insightful, practical perspective on how L&D is evolving so organizations can benchmark their practices and make smart decisions as they prioritize limited resources.
Contact me with questions, suggestions or requests to reference the Innovation Cycle in your work.
IMPACT
Performance Support
The digital transformation of work continues as organizations struggle to determine their hybrid futures. Regardless of when, where or how work is done, technology is now embedded within the workflow. With this change comes more accessible on-demand support - from checklists and job aids to chat bots and digital adoption tools. Performance support is well-understood, highly-valued and nearing its exit from the cycle.
Microlearning
The debate is over. Right-sized support focused on specific outcomes is just a good idea. Most organizations now apply some version of microlearning, such as short-form videos, bite-sized courses or daily training activities. There's still a bit of "what counts as microlearning" discussion going on, but the principles behind microlearning are quickly becoming embedded within L&D practices.
INTEGRATION
Social
This concept continues it's unnecessarily long journey along the curve. It's quickly morphing from its "social learning" origins into a more operational concept. Workplace learning and corporate communication are closely related, but they often fall under different functions and leverage separate systems. This is changing thanks to the ubiquity of Microsoft Teams and integration of learning features within workplace communication and productivity apps. Knowledge sharing will continue to evolve as organizations rethink EX to attract, retain and enable great employees.
Mobile
It's time for L&D to master mobile! Employees are using more devices on the job than ever before thanks to digital transformation (ecommerce, automation, self-service, etc.). This includes remote and frontline workers. Once buried under red tape, BYOD is becoming a standard practice around the world. People still don't want to complete courses on their phones, but there's a tremendous opportunity for L&D to get people the support they need when and where they need it - via any device.
Ecosystems
"How do the pieces fit together?" This may be the second most popular question in L&D right now - after "what is our skills strategy?" Tech stacks that expanded over the past few years are now starting to consolidate as budgets tighten and workflows get redesigned. CIOs and CHROs want to limit tech spend and streamline administration while also maximizing value and delivering a quality employee experience. Look for the "learning ecosystem" discussion to merge with the broader EX ecosystem as tools, tactics and technologies align with changing workplace priorities.
Learning Science
Organizations are still struggling to embed proven learning science principles within their practices. We know what works. A lot of it is commonsense. However, there are still plenty of assumptions and myths floating around, especially among stakeholders and SMEs. L&D pros will continue to be SHOCKED when people promote learning styles or share their Myers-Briggs letters. Unfortunately, there's a lot of bad information and misunderstanding out there, and proven practices like reinforcement and spacing are difficult to apply within traditional programs. As workplace learning evolves through related concepts like flow of work, mobile and artificial intelligence, learning science should become easier to integrate into everything we do.
REALITY
Flow of Work
How many times have you heard the phrase "learning in the flow of work" today? 5 times? 10? Every other sentence? After skills, this remains the most popular buzzword in L&D - for a good reason. Time is the biggest obstacle to learning and development. To close the opportunity gap, L&D must evolve its practices to make learning opportunities easier to access. This concept cannot emerge from the REALITY phase until we move beyond simply making learning available within the workflow to making it a priority part of everyone's job.
Measurement
It's still slow going when it comes to measurement. We know we have data problems. We know we cannot progress our practices and justify added investment until we fix measurement. Nevertheless, L&D teams struggle to prioritize measurement alongside the never-ending list of organizational fires. The benefits of future-focused practices like skills and AI may help push measurement higher on the priority list.
LXPs
Welcome to the bottom of the curve, LXPs! New and legacy LMS platforms are adopting LXP features, including aggregation, curation and recommendation. Market consolidation is leading to table stakes improvements in UI/UX. EX transformation is moving the front door for digital learning closer to the operation through integrated productivity tools. This one won't make it past the REALITY phase. Experience is a feature, not a platform.
Hybrid
This concept will struggle to escape REALITY because there is no such thing as "hybrid." There is on-location, and there is remote. In the current version of "hybrid learning," someone always loses out. Remote work is here to stay, but opportunities will decline as the economy struggles. L&D must course correct and design equitable experiences that fit the unique needs of both on-location and remote workers.
Content Libraries
Off-the-shelf content has been around forever, and it's currently slamming into the REALITY wall. Organizations realize that making lots of content available does not equal meaningful development opportunity. Plus, OTS content lacks context for companies with specific requirements and unique capabilities. There's still a place for content libraries. L&D must adopt curation tactics to blend custom, user-generated, SME-built and external content to keep pace with changing business needs.
Skills
It's the BIGGEST BUZZWORD in L&D! Actually, it's the biggest buzzword in HR, too! Adopting skills as the EX foundation makes sense - on paper. People are hired based on what they can do. People are trained to do more. It's how work is assigned. It's how people are promoted. It all makes sense - on paper. There are dozens of skills platforms on the market. Enterprises are reworking job descriptions and implementing skill taxonomies. However, REALITY is starting to set in. How do you validate skill? How do you make time for ongoing development? How do you continuously evolve skill profiles to meet changing business needs? We're going to have to figure this stuff out to make skills an integrated EX practice.
Personalization
This concept is following flow of work, hybrid and measurement into the trough of REALITY. Personalization can mean a lot of things - from customizable user interfaces to adaptive content delivery. To scale learning in the flow of work and meet people where they are in their development journeys, L&D must define their "personalized experience" and adopt the tactics needed to bring it to life.
HYPE
Artificial Intelligence
The DALL-E generated cat is out of the bag! AI is the fastest-moving topic on the curve. This isn't new for L&D. AI-enabled technology has been transforming L&D practices for several years. This includes use cases like automated translations, live captioning, content recommendations, NLP search and generated content. This progress was often iterative, taking place in the background. "WE USE AI" wasn't plastered across LMS marketing messages. Thanks to ChatGPT, AI awareness has exploded. More people recognize what these tools can do and how they can be integrated within the workflow. There are still lots of questions to be answered, but get ready for an AI boom across HR.
Virtual Reality
There are plenty of niche use cases where VR makes total sense right now. If it's too dangerous or expensive to do for real, VR may be the right choice. It's an awesome tool for immersive practice. Hardware is accessible and improving. Content is still difficult and expensive. Generative AI may be the eventual gateway to scaling VR. And you don't need a "metaverse" to experiment with this concept.
Coaching
AI-powered tech is stepping in to make up for manager shortcomings. Coaching as a service is quickly becoming a common part of enterprise learning strategy, especially for executive roles. Coaching is an essential part of modern learning ecosystem (hence chapter 7 in my new book). L&D must explore new approaches and find the right balance between human and automated coaching resources.
Integrated EX
Is learning a product or a feature? This question will be answered in 2023 as organizations rethink the employee experience to overcome economic challenges, transform operations and retain talent. Integrated tools like Microsoft Teams and frontline enablement platforms will seamlessly blend digital EX elements, including learning, communication, coaching, recognition, engagement and wellness. Learning platforms will continue to offer unique functionality. However, as this trend continues, employees will not be required to navigate to dedicated spaces to engage in siloed activities.
Augmented Reality
The Meta Quest Pro shoved AR into the HYPE phase. Just wait until Apple releases their headset (maybe this year?). The potential is clear: overlay digital information to improve our physical world experience. Pass-through video is a major step towards overcoming tech limitations. Challenges like battery life and device mobility still need to get solved. An AR headset may not be part of your everyday wardrobe anytime soon, but workplace applications are on the horizon.
EMERGENCE
Capability Academies
Innovations like microlearning and performance support are helping organizations accelerate onboarding and address timely workflow issues. What about more in-depth development - the kinds of things you can't learn on the job or through daily 5-minute activities? Enter capability academies - blended, long-form programs designed to build robust skills in alignment with organizational needs. Some of the loudest voices in HR are advocating for this concept. Many large enterprises are evolving their corporate universities into functional academies. There's an up-and-coming tech category too.
5G
Owning a 5G-capable phone still doesn't mean you have 5G speed. This tech must become ubiquitous for L&D to evolve its practices accordingly. Until then, organizations will continue to leverage Wi-Fi, adaptive streaming and blended content to minimize the need for excessive cellular bandwidth.
Blockchain
This is tech looking for a problem right now. Crypto isn't doing Web3 any favors. Interesting use cases for decentralized records pop up here and there. For example, Lowe's is using RFID, IoT and blockchain to combat retail theft. Energy concerns persist. Plus, there's the question of third-party validation for people's work records. It's going to be a while before we figure out if/how blockchain will transform L&D data practices.
Metaverse
This isn't a real thing. Feel free to disagree with me. VR and AR continue to evolve, but they're not always part of a "metaverse." There will be well resourced and motivated organizations, such as Accenture, who invest heavily in this trend. "Metaverse" will continue to get thrown around thanks to vendors like Meta. Otherwise, I don't expect people to be regularly living or working in immersive, integrated, 3D environments.
NOTE: I initially thought applying the hype cycle to L&D was an original idea. However, Web Courseworks did it first with this 2017 eLearning Predictions Hype Curve. I wanted to be sure to give credit where credit is due!