I've been applying AI in the workplace for more than 10 years in my work with LearnGeek and Axonify. Now, I'm helping L&D and EX professionals adopt an AI-enabled mindset as artificial intelligence transforms the employee experience. Check out my latest collection of AI resources, including my curated AI magazine, presentations, subject matter experts and recommended books.

The pace of AI innovation is downright ridiculous! It's impossible to keep up and figure out what's real and what's just hype - even if you work in tech. I curate the latest AI news and insights into an easy-to-ready Flipboard magazine. Follow AI @ Work to learn how organizations are leveraging AI to transform the workplace experience.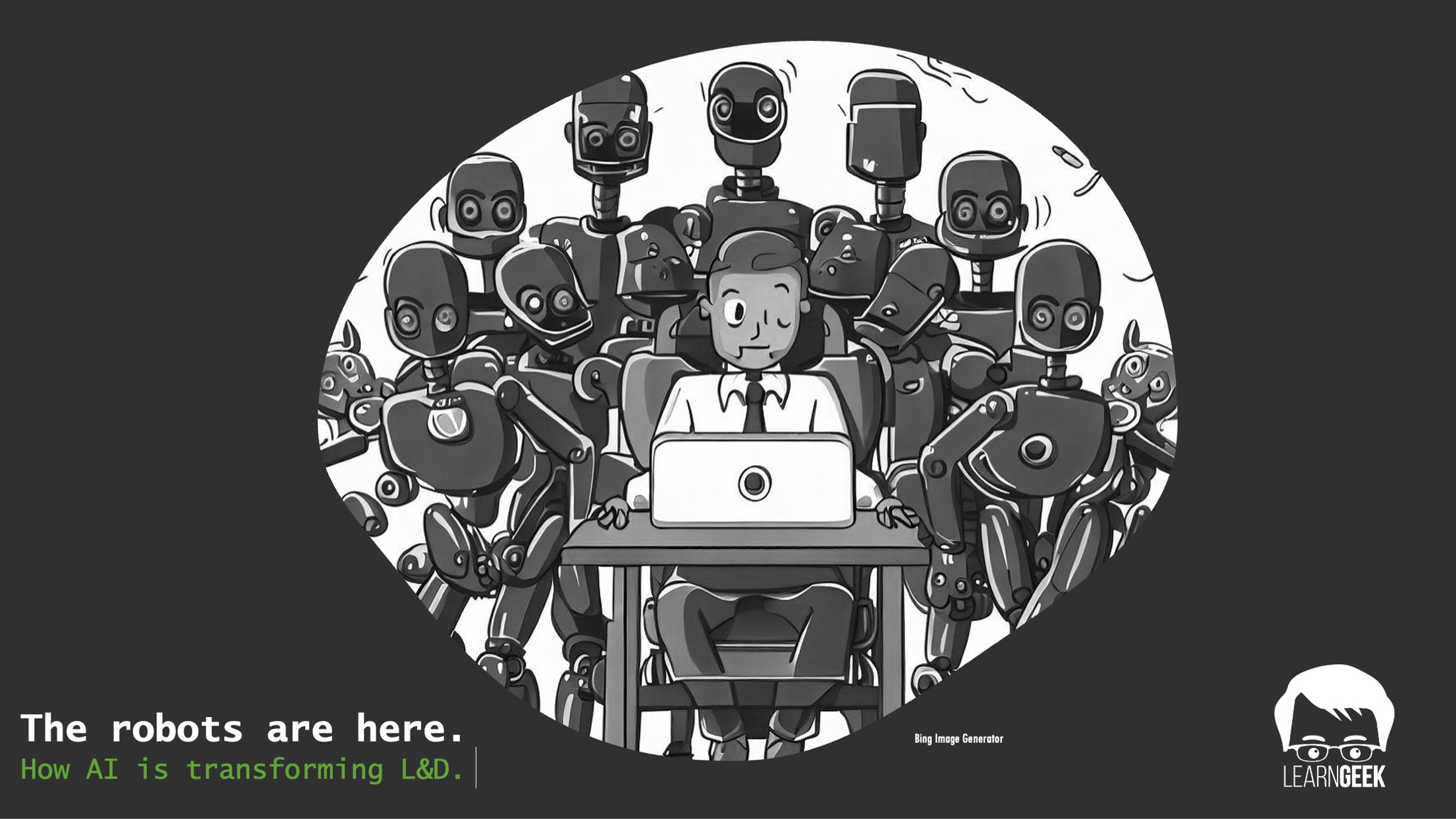 AI is a paradigm-shifting technology that is already helping organizations solve familiar problems in new ways. It's also one of the buzziest topics in the marketplace. With all of the marketing noise, it can be difficult-to-impossible to figure out what's real and what's hype with AI.
Let's explore the impact artificial intelligence is already having on L&D. In this conference session, I start with a quick primer on the basics of AI. I then showcase examples of AI-enabled tools, including applications that accelerate content authoring, automate translation, personalize learning experiences, and measure the impact of training programs. I also dispel myths about "robots" replacing L&D roles and demonstrate how this technology augments our ability to address stakeholder demands in an always-changing workplace. Overall, this session demonstrated what's possible right now through AI-enabled technology and provide the insight needed to kickstart a AI-enabled conversation within your L&D team.
Blueprint for an AI Bill of Rights
The US White House Office of Science and Technology Policy has identified five principles that should guide the design, use, and deployment of automated systems to protect the American public in the age of artificial intelligence. The Blueprint for an AI Bill of Rights is a guide for a society that protects all people from these threats—and uses technologies in ways that reinforce our highest values.
The EU AI Act
The AI Act is a proposed European law on artificial intelligence (AI) – the first law on AI by a major regulator anywhere. The law assigns applications of AI to three risk categories. Like the EU's General Data Protection Regulation (GDPR) in 2018, the EU AI Act could become a global standard, determining to what extent AI has a positive rather than negative effect on life.
AI is everywhere! ChatGPT can write quirky poetry. Bing can summarize entire webpages. Stable Diffusion can make U.S. presidents look like Pixar characters. The technology is impressive, but how will this next wave of digital innovation impact the employee experience?
In this AI-powered episode of In The Know, I explore the potential benefits and risks for AI in the workplace by speaking with a very special guest: AI. That's right! We stretched the limits of modern tech by conducting a live interview with a fully digital guest. We discussed a range of AI workplace applications, from recruiting and training to engagement and talent mobility. I also shared questions you MUST ask before introducing AI-enabled tech in your organization.
Subscribe to ECOSYSTEM for ongoing AI insights!