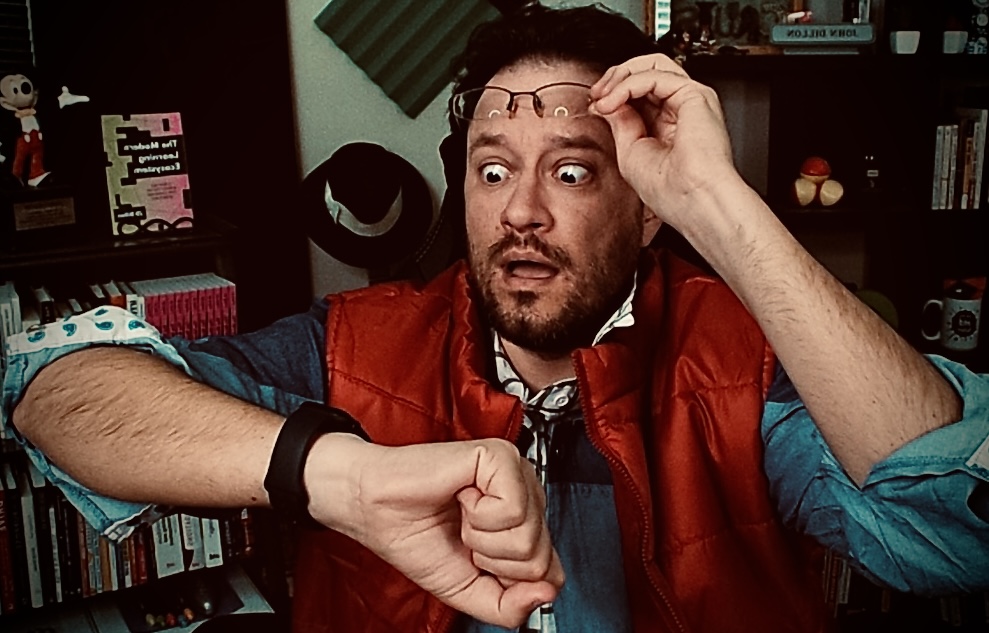 I've been applying artificial intelligence (AI) in the workplace for 10 years in my work with Axonify and LearnGeek. Now, I'm helping L&D and EX professionals adopt an AI-enabled mindset as this technology rapidly transforms the workplace experience.
Check out my latest collection of AI resources, including:
LearnGeek Technology Values

Strategic. We solve problems through the informed application of technology. We do not buy into the hype or waste resources.
Transparent. We help people understand how technology works, why its effective and how it impacts them. We do not implement black box solutions.
Equitable. We provide every employee with a fair opportunity to do their best work. We do not play favorites.
Seamless. We leverage technology to simplify the work experience. We do not overburden people for our own benefit.
Compliant. We adhere to internal guidelines and external regulations in everything we do. We do not add risk to the organization.

The pace of AI innovation is downright ridiculous! It's impossible to keep up and figure out what's real and what's just hype - even if you work in tech. I curate the latest AI news and insights into an easy-to-ready Flipboard magazine.
Follow AI @ Work to learn how organizations are leveraging AI to transform the workplace experience.
Wednesday, September 27, 2023 @ 12pm ET
Online
Join Cognota for the first-ever LearnOps® Summit, a groundbreaking FREE virtual event that will revolutionize the way you approach corporate learning and development.
Discover the power of LearnOps® and gain invaluable insights from top L&D leaders who are shaping the future of the industry.
I'm speaking on a panel alongside technologists from Amazon, ChenMed, IBM and Docebo. Together, we'll explore the power of AI within the L&D ecosustem.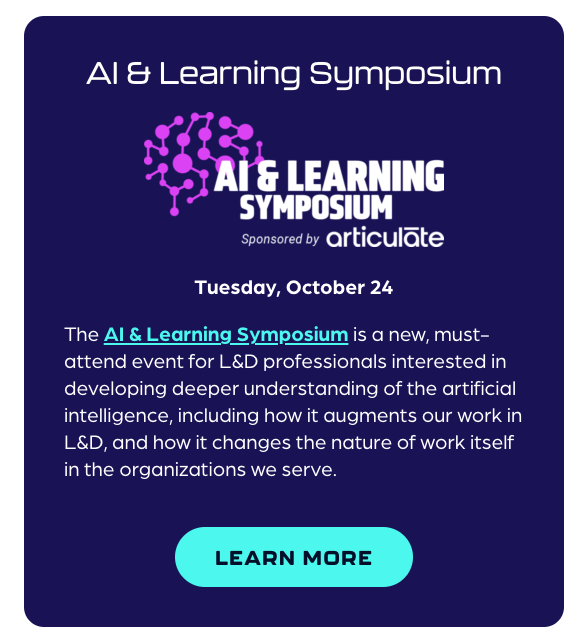 Tuesday, October 24, 2023 @ 830am PT
Las Vegas, NV | USA
As a learning and development professional, you know that the future of work is rapidly changing and the need to incorporate AI into your L&D strategies is becoming increasingly crucial.
In this one-day event from The Learning Guild, you'll gain a deeper understanding of the basics of artificial intelligence and how it impacts L&D and the organizations we serve. Throughout the day you'll engage in discussions, hands-on experiences, investigations, and analysis, as well as attend panels and presentations that explore the latest trends and best practices in AI-powered learning and development and their impact on the future of work.
I partnered with TrainingPros to host an UNwebinar on AI in L&D on July 20, 2023. I left lots of time for Q&A but still couldn't get to every question submitted by the attendees. So I dropped an hour and a half video with my answers to EVERY QUESTION, including:
What are the most important AI skills L&D pros need to develop?
Which L&D roles are at the biggest risk of being replaced by AI?
How do you determine what's real and what's hype with AI tech?
What are some other use cases for AI in L&D besides content creation?
Check out the video description on YouTube for the full question list and chapter links.
AI is everywhere! ChatGPT can write quirky poetry. Bing can summarize entire webpages. Stable Diffusion can make U.S. presidents look like Pixar characters. The technology is impressive, but how will this next wave of digital innovation impact the employee experience?
In this AI-powered episode of In The Know, I explore the potential benefits and risks for AI in the workplace by speaking with a very special guest: AI. That's right! We stretched the limits of modern tech by conducting a live interview with a fully digital guest. We discussed a range of AI workplace applications, from recruiting and training to engagement and talent mobility. I also shared questions you MUST ask before introducing AI-enabled tech in your organization.
In this episode of the Learning While Working podcast, Robin speaks with JD Dillon about the impact of AI on the future of work, and the importance of not being short-sighted with this technology.
There is an ever-increasing need for critical thinking, and trust, transparency, and collaboration are key factors in AI adoption. JD encourages L&D professionals to engage with stakeholders and align their strategies with the organisation's vision for AI.
AI represents a significant shift in our relationship with technology.
Trust and transparency are crucial for successful AI adoption.
It is the perfect time to discuss how we can shape the future of work.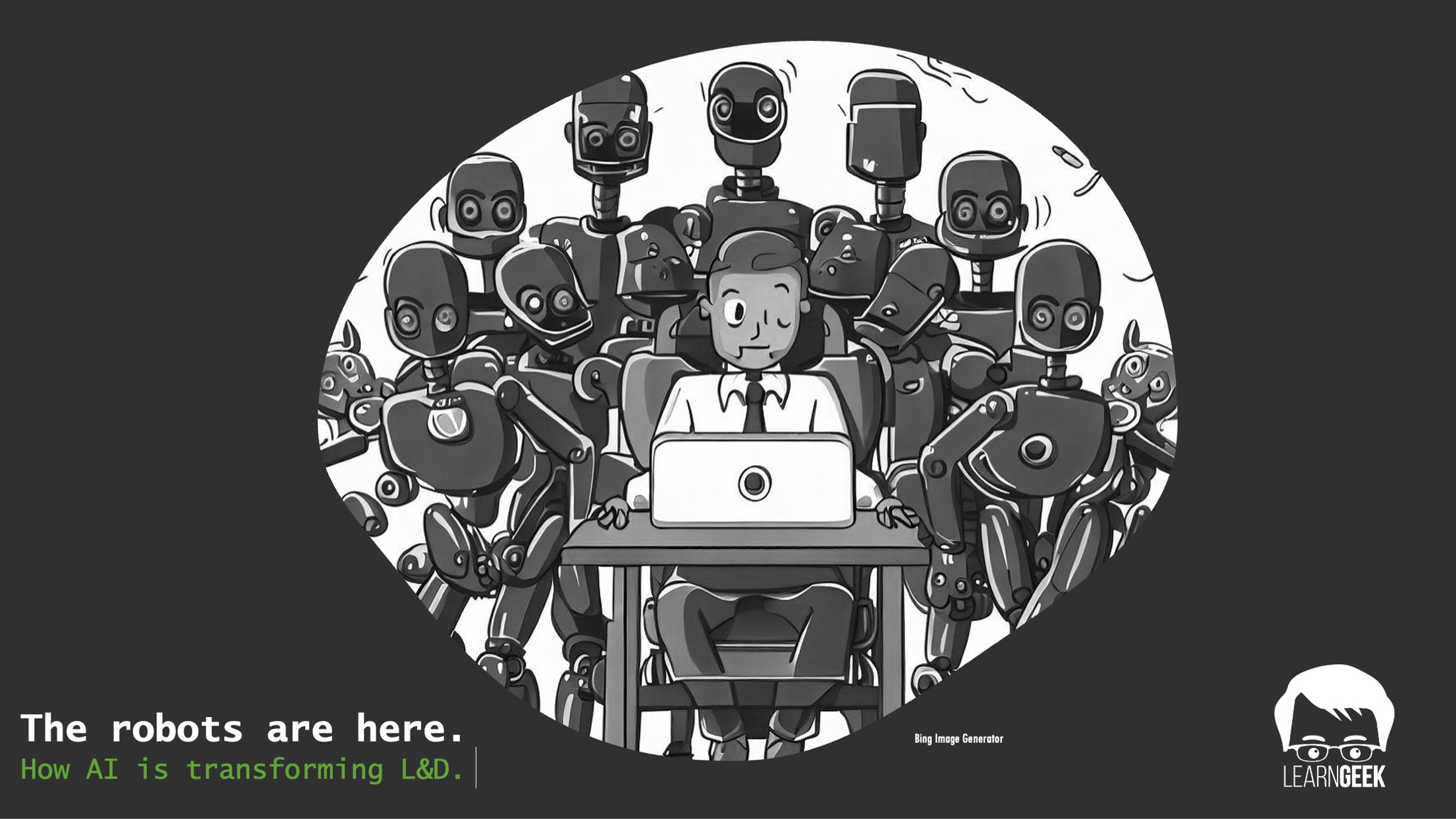 AI is a paradigm-shifting technology that is already helping organizations solve familiar problems in new ways. It's also one of the buzziest topics in the marketplace. With all of the marketing noise, it can be difficult-to-impossible to figure out what's real and what's hype with AI.
Let's explore the impact artificial intelligence is already having on L&D. In this conference session, I start with a quick primer on the basics of AI. I then showcase examples of AI-enabled tools, including applications that accelerate content authoring, automate translation, personalize learning experiences, and measure the impact of training programs. I also dispel myths about "robots" replacing L&D roles and demonstrate how this technology augments our ability to address stakeholder demands in an always-changing workplace. Overall, this session demonstrated what's possible right now through AI-enabled technology and provide the insight needed to kickstart a AI-enabled conversation within your L&D team.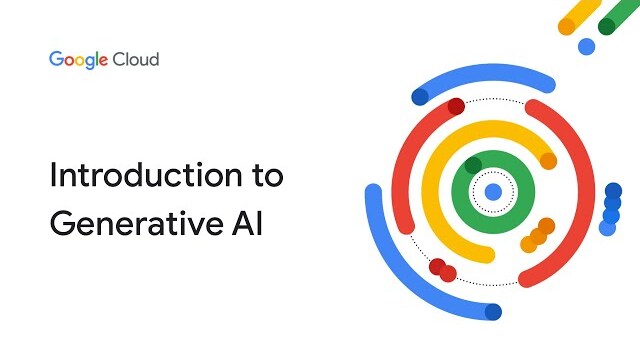 This
learning path
guides you through a curated collection of content on generative AI products and technologies, from the fundamentals of Large Language Models to how to create and deploy generative AI solutions on Google Cloud.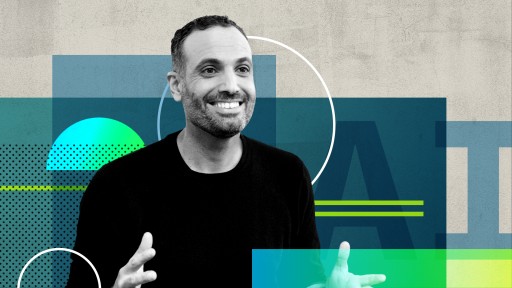 Artificial intelligence has been affecting and transforming our lives for decades. But over the past few years, AI has made incredible progress, with some applications becoming so advanced that they are quickly becoming a powerful force in various industries, with the potential to reshape entire economies—and even reshape society.
Join LinkedIn's Chief Product Officer Tomer Cohen as he shows you key tools and insights to help you use generative AI to reinvent the future of your business.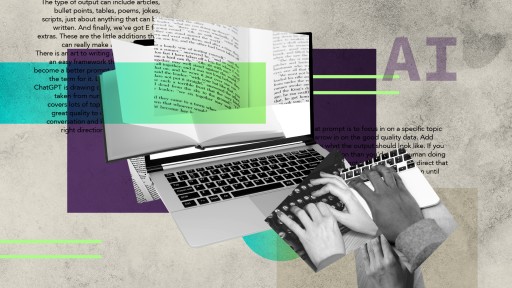 Generative AI tools have made a big impact on business in a short period of time. Many people are using them to make their jobs easier and to help them produce even better work. But it can be hard to know where to begin.
Join Dave Birss, innovator and AI expert, as he practically demonstrates how to collaborate with AI tools in the best way. He shares a framework to help you understand how you can incorporate AI into your everyday tasks. He also shares a number of useful prompts that can streamline tasks and help you achieve even better results.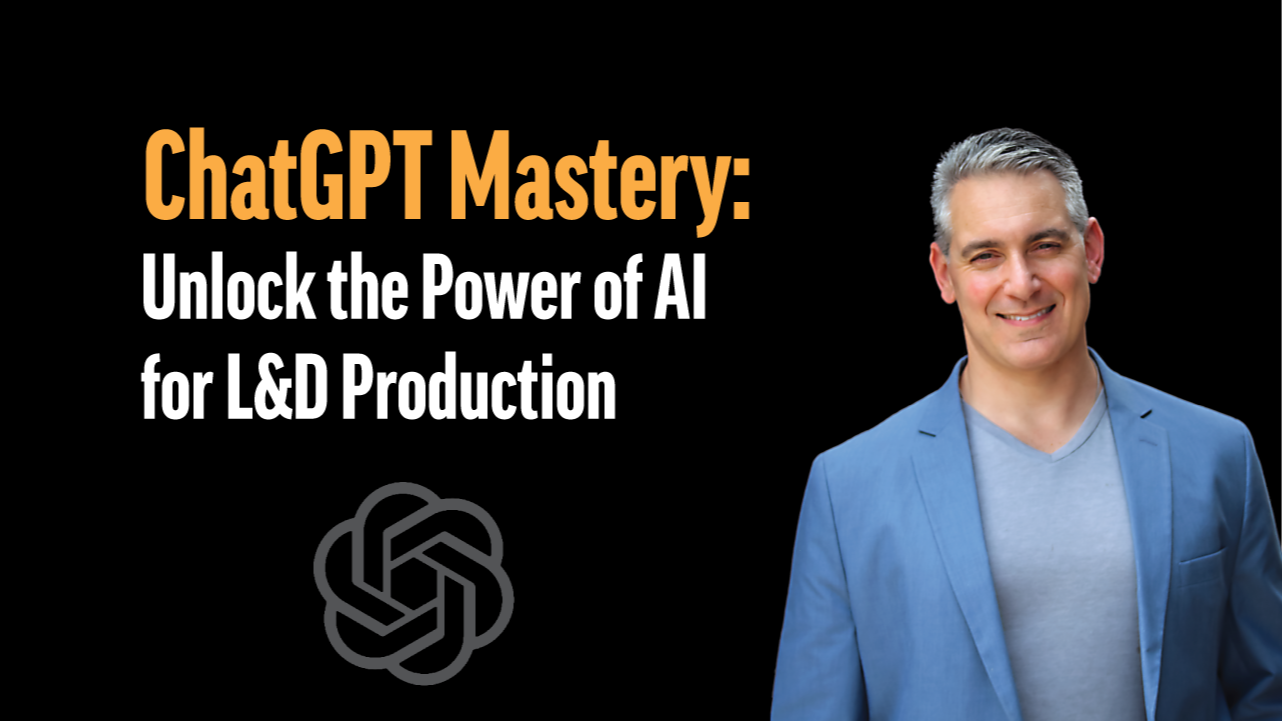 An expanding universe of opportunities is springing forth as businesses across the globe recognize the vital role of prompt engineering in AI-driven solutions. Don't be sidelined in the AI Revolution!
With this course from Josh Cavalier, you'll ascend to the rank of a Prompt Engineer for Learning & Development, armed with the knowledge and skills to ride the wave of AI innovation. Your future success in the AI arena begins here.
Blueprint for an AI Bill of Rights
The US White House Office of Science and Technology Policy has identified five principles that should guide the design, use, and deployment of automated systems to protect the American public in the age of artificial intelligence. The Blueprint for an AI Bill of Rights is a guide for a society that protects all people from these threats—and uses technologies in ways that reinforce our highest values.
The EU AI Act
The AI Act is a proposed European law on artificial intelligence (AI) – the first law on AI by a major regulator anywhere. The law assigns applications of AI to three risk categories. Like the EU's General Data Protection Regulation (GDPR) in 2018, the EU AI Act could become a global standard, determining to what extent AI has a positive rather than negative effect on life.