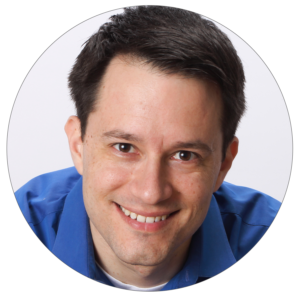 JD Dillon is the founder and principal at LearnGeek, an independent practice that provides hands-on consultative and educational services to organizations that want to provide better learning and support for their employees.
JD has spent his 20-year career designing and implementing learning and performance strategies for respected global organizations, including The Walt Disney Company, Kaplan, Brambles, and AMC Theatres. With his practical approach and unique ability to integrate science, technology, storytelling, and pure common sense, JD delivers modern solutions that enable employees and drive results.
JD is also the Chief Learning Architect with Axonify, where he works with an award-winning team to boost employee knowledge, organizational capability and business results for leading organizations through the application of modern learning practices and cutting-edge technology.
JD is a popular conference speaker who is known for his high-energy, humor-filled delivery as well as his relatable stories and practical examples. He shares ongoing insights on his LearnGeek Blog and writes a monthly column for Learning Solutions titled 'In Real Life.'
You can find JD on Twitter via @JD_Dillon or online at learngeek.co.
---
---
---
Professional Experience
Axonify | Orlando, Florida
Chief Learning Architect
February 2016 – Present
Champion The Axonify Way – the methodology used to develop, market and implement the company's technology and service products
Consult with current and prospective clients to strengthen their learning and performance ecosystems through the application of modern learning principles and technology, including the Axonify Adaptive Microlearning Platform
Conduct industry and client research into evolving workplace learning trends to validate and evolve the Axonify Way
Support internal partners in marketing, sales, services, and customer experience by providing a practical corporate learning and operations industry perspective
Lead the internal and external learning advisory panels to explore prevailing industry trends and modern organization needs
Execute the company's influencer program to grow awareness of the Axonify product and related themes
Share my insights and experience on a variety of learning and performance topics through multiple channels, including the Axonify Blog and my monthly Learning Solutions column
Represent the organization during industry events, including international conferences, trade shows, and webinars
Provide strategic oversight for internal Axonify learning and performance practices, including direct management of the L&D team
---
LearnGeek | Orlando, Florida
Founder
January 2016 – Present
Provide hands-on consulting services to organizations seeking to evolve their workplace learning and support practices
Deliver industry presentations – from corporate workshops to conference keynotes – in support of core LearnGeek principles and practices
---
Brambles | Orlando, Florida
Global Learning & Development Manager
September 2015 – January 2016
Partnered with our global talent development team and stakeholders from every supply chain business team to identify performance needs and design right-fit solutions
Fostered the organization's strategy for global leadership development, including the design and delivery of blended learning programs as well as the use of scalable resources and technology to foster continued knowledge sharing
Redesigned the onboarding experience for employees within US business units to introduce a six-month blended experience focused on employee enablement, cultural integration, and business awareness
---
Kaplan Higher and Professional Education | Orlando, Florida
Director – Learning Technology & Development
March 2010 – September 2015
Consulted with stakeholders to identify performance gaps and design right-fit learning and performance support strategies for student support staff and managers in domestic campuses and support centers
Established the organization's strategic approach to learning and performance support, which leveraged modern applications of technology, brain science, and knowledge sharing (social, mobile, data analysis, virtual delivery, gamification, reinforcement) to create personalized and scalable solutions
Led a virtual team of instructional designers, writers, developers, facilitators, and system administrators
Managed the organization's learning and project management technology portfolio, including social, collaboration, reporting, training, and content management platforms (Confluence, Axonify, Cornerstone OnDemand, JIRA, Teamwork Project, HipChat, Google Apps)
Established and foster partnerships with external technology vendors and content providers
Facilitated classroom and virtual programs for student support employees and leaders in all lines of business
---
Walt Disney World Resort | Lake Buena Vista, Florida
Learning & Development Manager / Guest Experience Manager
June 2004 – March 2010
Collaborated with location and line of business stakeholders to design and deliver targeted learning and performance support programs for Cast Members and managers in all resort locations and roles
Managed the daily operation and ongoing performance of a consultation and facilitation team
Facilitated a variety of learning programs in local profit centers for Cast Member, management, and executive audiences
Collaborated during the design and implementation of what was at the time the largest training initiative in Walt Disney World Resort history (Disney Service Basics – 32,000+ Cast Members trained in 4 months)
Developed a popular interactive learning series focused on the improvement of Guest service skills
Led teams of up to 150 Cast Members in the delivery of world-class Guest service and operational efficiency while maintaining uncompromising safety and show quality standards
Operational leadership role locations included the Magic Kingdom Park, Disney's Hollywood Studios, Downtown Disney, and DisneyQuest Indoor Interactive Theme Park
---
AMC Theatres | Orlando, Florida
Operations Manager / Human Resource Generalist
June 1999 – December 2005
Managed daily operations for movie theatre locations with an annual attendance in excess of 1.2 million guests
Led all location human resource functions, including recruitment, training, scheduling, payroll, documentation, internal communication, succession planning, and employee performance management
Designed and implemented custom classroom and on-the-job training programs for multiple theatre locations
---
---
Formal Education
Master of Business Administration – Kaplan University
Bachelor of Arts, Communications & Marketing – University of Central Florida
---
---
Professional & Volunteer Activities
Council Member – Gerson Lehrman Group (GLG)
ATD TechKnowledge Conference Program Advisory Committee (2015, 2016, 2017)
Keynote Speaker: LearningTechDay (2018), Learning DevCamp (2016), eLearning Guild Online Forum (2015)
Session Presenter: ATD International Conference & Expo, DevLearn, ATD TechKnowledge, Learning Solutions, Learning & Performance Ecosystem, CLO Symposium, ATD Core 4, Innovative Learning Conference, FocusOn Learning, Sunshine Expo, Training Magazine Conference, Data & Analytics Summit, AGC HR + Training Conference
DevLearn Conference Learning Stage Host (2014)
Memberships: Association for Talent Development (ATD) – National and Central Florida Chapter; eLearning Guild
Program Facilitator and Mentor – Central Florida Jobs Initiative
---
---
Additional Skills & Experience
Fourteen (14) years of project management experience, including team coordination, client consultation, needs analysis, budget management, organizational communication, implementation support, and measurement/reporting
Twelve (12) years of instructional design (ID) experience focused on the creation and execution of technology-enabled learning and performance support solutions founded in a practical understanding of adult learning, motivation, and cognition
Seventeen (17) years of professional facilitation experience, including international conferences, classroom sessions, virtual programs, property tours, orientations, recruitment presentations, executive summaries, and on-the-job training for audiences ranging in size from 2 to over 1000
---
---
Technology
Productivity

: PowerPoint, Excel, Word, Publisher, Visio, Project, Keynote, Pages, Numbers, WorkBrain, SAP, Workday, Salesforce, Teamwork Project, SurveyMonkey

Media Design

: Captivate, Audition, Premiere, Photoshop, Illustrator, InDesign, Dreamweaver, Acrobat, Final Cut Pro, Soundtrack Pro, Motion, DVD Studio Pro, iMovie, Articulate Storyline, ZebraZapps, Sony Vegas Movie Studio, DVD Architect, SnagIt

Collaboration, Social, Learning Management

: Google Apps, Office 365, Google Analytics, Twitter, Facebook, Yammer, LinkedIn, Instagram, Pinterest, Snapchat, WordPress, HootSuite, foursquare, Confluence, JIRA, HipChat, Slack, Axonify, SharePoint, Adobe Connect, Cornerstone OnDemand, Moodle
---
---
Recognition
2015 Best Academic Solution Winner – eLearning Guild DemoFest (Learning Solutions Conference)
2014 Kaplan Way Leadership Award Nominee
2007 & 2009 Walt Disney World Resort Partners in Excellence Nominee