Does it still work?
I entered 2020 with a shortlist of themes to explore. This year was going to about balance, reskilling, artificial intelligence, and frontline enablement. Then March happened. The professional conversation shifted from "that's an interesting idea we should think about moving forward" to "we just need to do it differently so we can keep the doors open" overnight.
I've done a lot of talking over the past eight months. But I've also done plenty of listening. Every peer discussion, customer meeting, podcast interview and online presentation has been a learning experience. My goals: to understand how effectively the professional community has adapted in the face of disruption and what kind of help they will need moving forward. I was ready to go back to the drawing board and develop a new perspective on workplace learning, one that better aligned with our next normal. What worked last year couldn't possibly work after all of this unexpected and unprecedented change, right?
Well …
Six blocks
If you've ever seen me present, you've seen this image.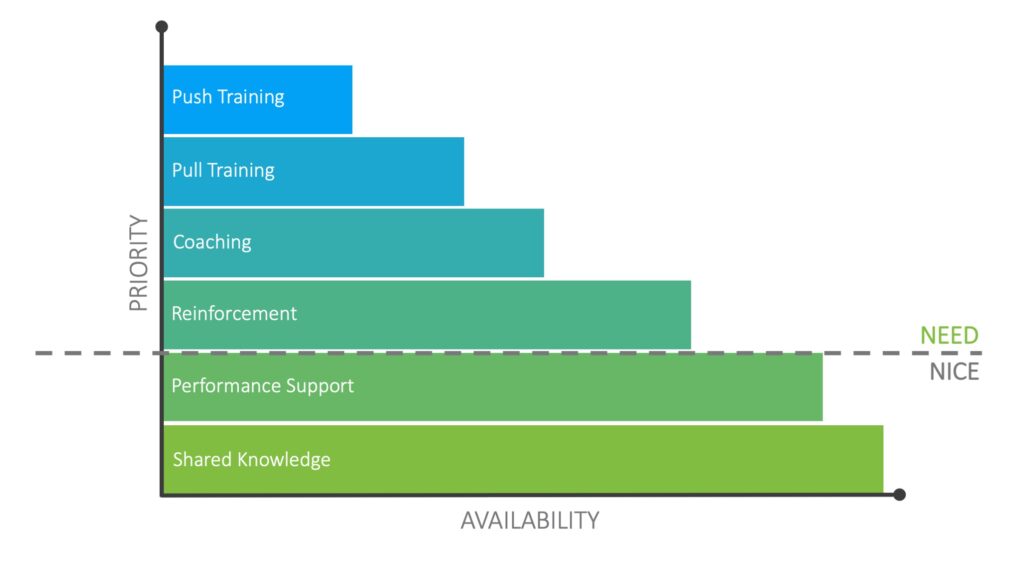 I drew this diagram on a whiteboard during a client meeting five years ago. Since then, the Modern Learning Ecosystem (MLE) Framework has become "my thing." These six simple blocks represent my practical perspective on how we can help people do their best work every day. It was born from difficult and persistent workplace change.
Ten years ago, I had to figure out how to support a large, complex workforce with limited resources in a company that was in a constant state of disruption. The traditional tactics I had relied on for my entire career to that point, including classroom training and eLearning, were insufficient. After years of trial and error, these six blocks came to guide all of my L&D decisions. The MLE Framework aligns L&D solutions with everyday workplace realities. It helps L&D move at the speed and scale of a dynamic enterprise.
Does it still work?
Could this framework help companies deal with pandemic-level disruption? Surprisingly, yes!
I'd love to claim that I built the MLE Framework to handle anything and everything the world can throw at an organization. I didn't. I reimagined my approach based on my observations of how people really learn at work as well as the common limitations experienced within large, dynamic organizations. Turns out, the fundamental experience of learning at work doesn't change – no matter how big the disruption.
For the past eight months, I've asked L&D, HR and Operations professionals from around the world how they've adapted their employee learning and support strategies. What I've heard most of the time has been my own framework explained back to me but in the current context …
Communication was priority. We had to find new ways to get people timely and consistent information because we couldn't rely on team meetings or casual conversation. We implemented Slack/Teams/mobile/etc.
Things have been changing so quickly that we've moved away from formal training and improved our documentation approach so people can quickly find the latest process update.
We used a lot of practice and reinforcement activities to help people relearn how to do their jobs in the new environment and break old habits quickly. Microlearning has been very helpful as we focus on the most important job behaviors.
Managers have been essential in helping people overcome new problems and support people's general wellbeing and resilience.
We still provide structured training, but only when needed because it can be too difficult to deliver online and too disruptive to the operation with our new limitations. People have more online content they can leverage when they need it or have the time.
They may not have known it, but they applied the MLE Framework out of necessity! Companies who had already adopted a similar "modern learning mindset" and prioritized tactics such as communication, shared knowledge and performance support appear to have been faster to adapt to workplace change.
The point is …
Am I taking credit for these organizations' ability to support their employees and customers during a pandemic? Absolutely not! Am I proud that my framework has helped people do great work under extremely challenging circumstances? I am!
2020 has been a tragic year. The pandemic is far from over. If we don't learn from this experience, we won't be able to help the people we support be successful in their next normal. Work isn't going to go "back to normal." We're all discovering new versions of it, some a lot more transformed than others. I hope the MLE Framework and other LearnGeek resources can be of use as you do great, important work every day. I'll continue to assess our practices and make sure they fit the realities we'll face in our profession moving forward.
Let me know if I can help.
Be well.