This photo was taken in February at ATD TechKnowledge in San Jose, California.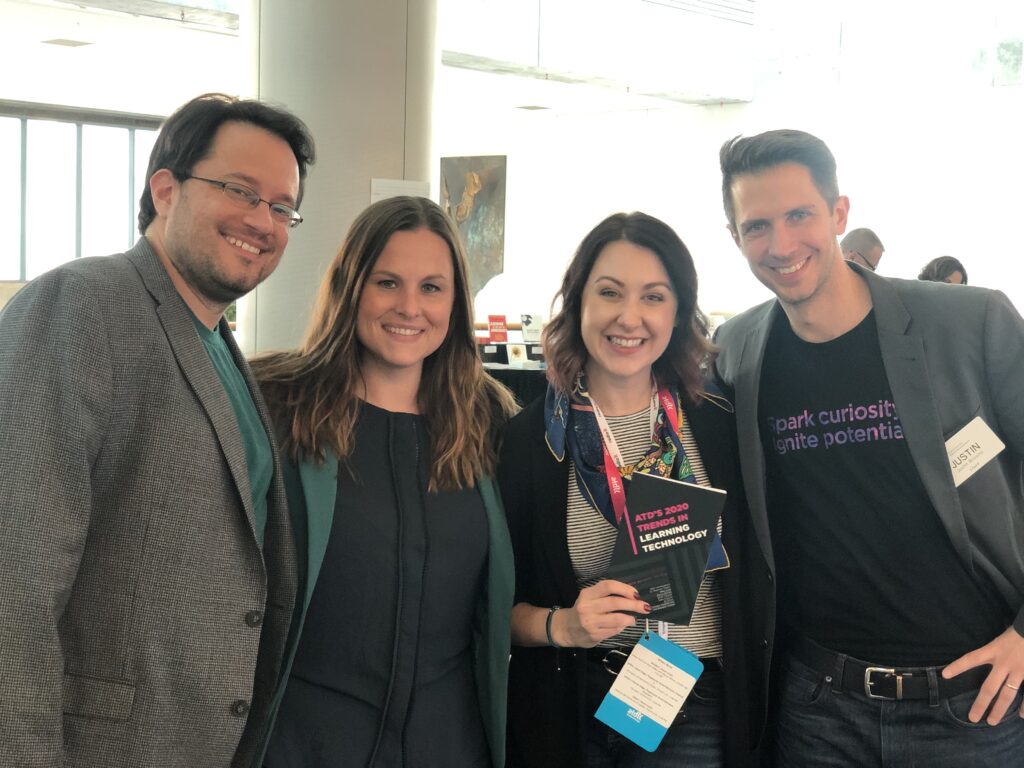 Except for a quick stop at the Axonify office in Waterloo, this was the last time I saw professional peers in person before the COVID-19 pandemic impacted our everyday lives.
Conferences have been a big part of my professional (and personal) life for the past few years. If there was an L&D or HR event in North America between 2016 and 2019, I was probably there. Attending conferences as a core part of my job was an absolute luxury. It gave me a chance to share my ideas, stories and experiences. More importantly, I connected and learned directly from peers who faced workplace learning and performance challenges every day. These connections helped to keep me energized and motivated.
Of course, there are much, MUCH bigger problems in the world than my inability to attend conferences for however long. But it's still a big change to my routine. As I was listening to a webinar last week, I started to reflect on my conference experiences. A few fun moments stood out. And I had a good laugh … to myself. So I figured I'd share.
The room where it happened (ATD ICE 2017)
This was one of the best and worst presentation experiences I ever had. And it was all due to the shape of a room in the Atlanta convention center.
300+ people attended my session 'Go Viral! Motiving Your Employees to Share Their Knowledge.' I was placed in a large room. Sounds great! But the room had a major design flaw. It was meant to exist as two separate spaces. When combined, it was shaped like a W. The cavernous chamber had two screens, one on each side, so everyone could see the presentation. However, if you stood in the middle of the room while speaking, people on the sides couldn't see you. There was a stage at the front, but the space was consumed by a table and podium. To make matters worse, they didn't have a lavalier available for this room, just handheld microphones.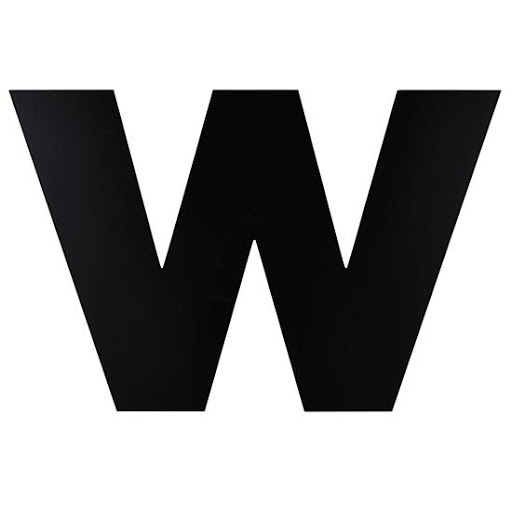 I spent 75 minutes running around the room so I could be seen by and interact with the sizeable audience. The handheld mic gave my delivery a different vibe – like a lounge singer. When my voice started to strain, a participant came running with a cup of water. After the session was over, I received the second best feedback comment I've ever received at a conference. She said "at the beginning I thought I was going to hate this, but it was actually the best session I've seen so far." Thank you, brutally honest person!
I need a wardrobe budget (AxoniCom Global 2020)
My speaking schedule went virtual in March. Since the pandemic started, I have delivered 20 sessions using almost every online presentation tool on the market. One of my most exciting online experiences was the inaugural AxoniCom Global. The event was available to everyone in the Axonify community, but it was created primarily for international participants. It featured speakers from Axonify as well as partner and client organizations on topics such as measurement, resilience, ecosystems and engagement. I played the dual role of facilitator and host.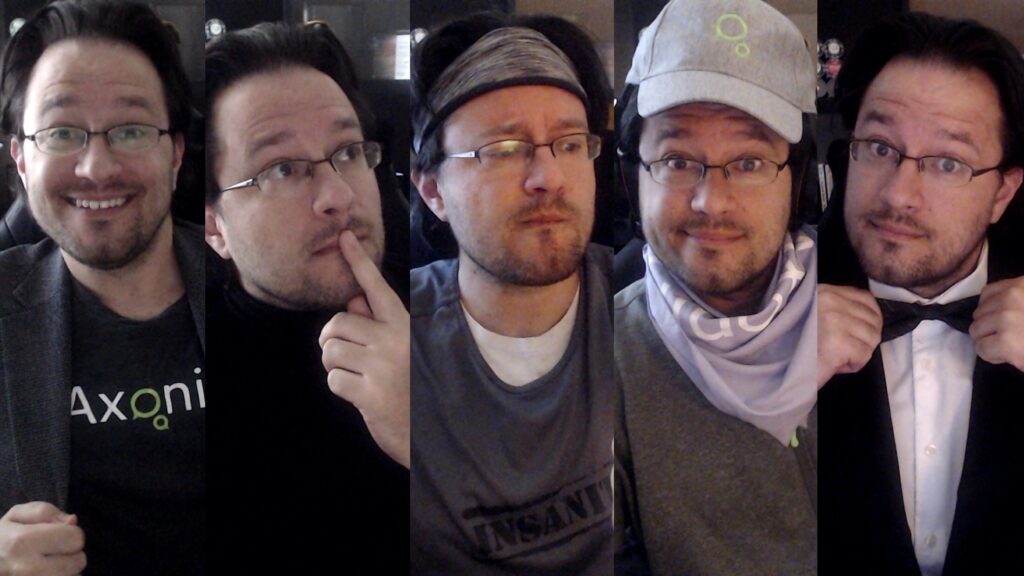 As host, my job was to transition between sessions and maintain engagement. I took inspiration from big, fancy award shows and built costume changes into my delivery. I started the day in a blazer and t-shirt. When it was time to introduce a technology session, I appeared in my "I work in tech" turtleneck. When we went to break, I returned in my workout gear to stress the importance of getting away from your desk. And, when it was time to welcome a speaker from a luxury retailer, I wore half of a tuxedo. It was a lot of fun, and my home office now includes a growing wardrobe area.
"You have a cool job!" (AITD 2019)
How do you explain what you do for a living to people who do not work in L&D? The LearnGeek slogan – helping people do what they do, better – was created to help me solve this problem several years ago. It didn't really explain what I did for 50+ hours every week, but it gave people an idea of how I contributed to my organizations. They got it, but they still weren't impressed. Until …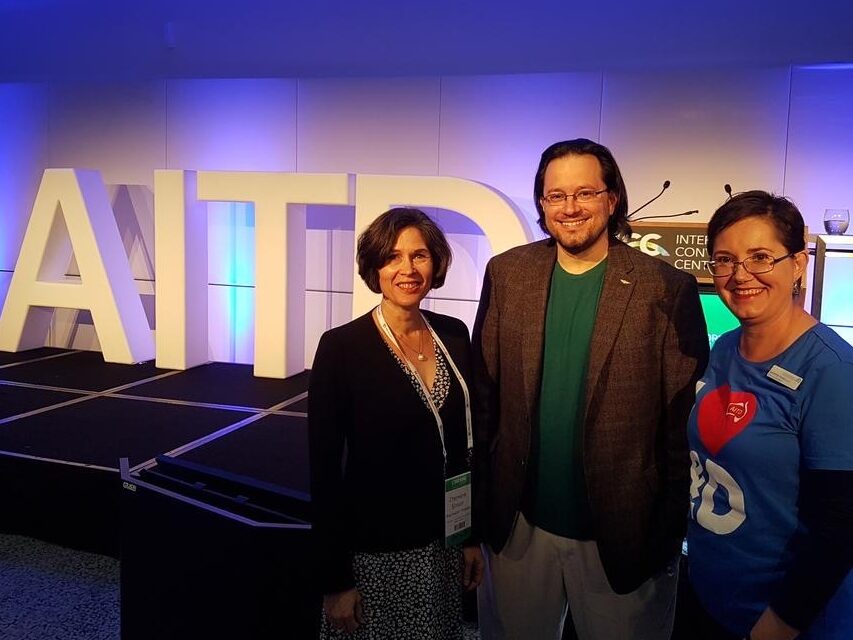 Last summer, I was honored to deliver the opening keynote for the annual AITD Conference in Sydney, Australia. It was the longest distance I had ever traveled for work and my first time visiting the region. It was an awesome experience! It was also the trip that triggered multiple "you have a cool job" comments from people in my personal life. Apparently going to Australia makes L&D cool to the average person. 🙂
We won! (2015)
The purpose of L&D is not to win awards. However, when I joined a previous employer, I was met with this expectation from a senior executive. "I want to have an award-winning training team." OK … but how about the whole business impact thing? Regardless of expectation, we set out to help employees do their best work every day. If we figured out how to win an award along the way, that would be great too.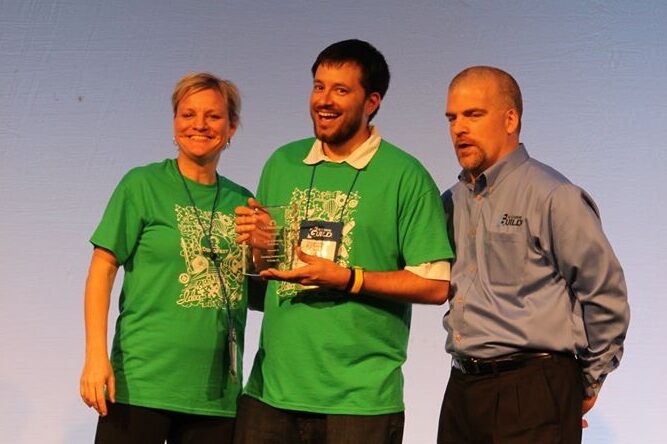 I stumbled upon our first opportunity to win something during the 2015 Learning Solutions Conference in Orlando. I worked with my newest vendor partner, Axonify, to enter DemoFest, which is the event's science fair-like exhibition of L&D community projects. We walked away with "Best Academic Solution" for our contact center reinforcement program. After accepting the award, I texted my boss "we won." It took five years, but we finally met that expectation.
#KnifeMonkey (Learning Solutions 2017)
This was the most fun I've ever had at a conference. I was part of the inaugural (I think?) presentation roulette. Eight speakers picked random L&D topics from a hat and ad-libbed presentations to automatically-advancing slides we had never seen before. I cannot remember the specific topic I selected, but I feel like it had something to do with information security. What I do remember is turning around mid-presentation to see this slide …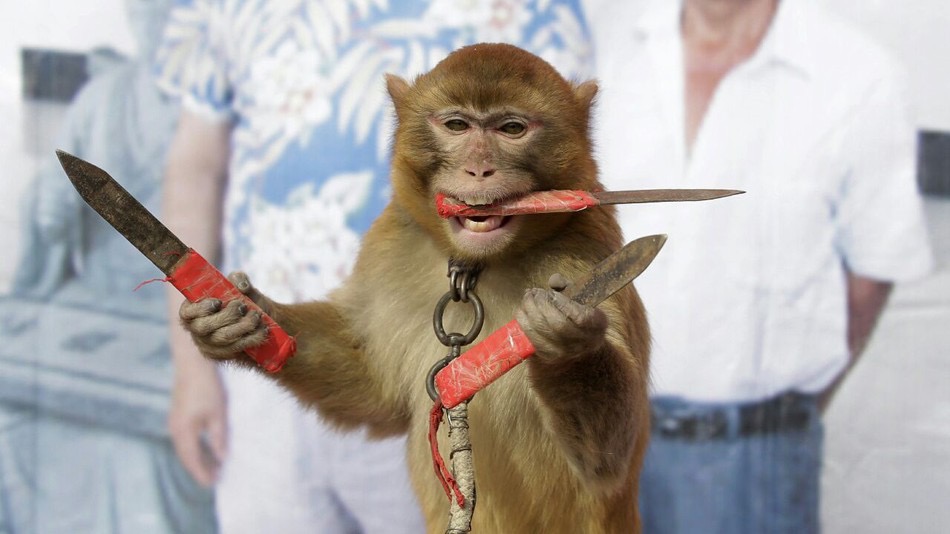 How would you work this image into a conversation about learning? Well, I went into a 20-second explanation of how L&D must become "the knife monkey" if we want to solve this very challenging problem. #knifemonkey immediately started trending on Twitter. Strangely enough, the hashtag has never been used for anything else. Thanks, Bianca Woods!
---
Professional events haven't just changed my career. They've changed my life. Our community will continue to connect and collaborate as we find our next normal. Chances are a lot of this will take place online, even after disruption subsides. I hope we ultimately strike a balance and provide right-fit opportunities for peers to share with and learn from one another both digitally and in-person.
What are some of your favorite conference memories?