Moments were a central theme at the recent 2019 ATD International Conference and Expo. In my reflection post on the Axonify Blog, I talked about the importance of looking at workplace learning in terms of moments rather than paths or courses. But #ATDMoments also made me think about moments that have been particularly meaningful for me – personally and professionally. On the flight home, I made a list of the moments that really shaped my current view of things.
As an L&D professional with zero formal training in my profession, my approach has been informed by 20 years of practical operations, human resources and training experience. But there are distinct moments – good and bad – that forced me to rethink how I was doing my job. These moments continue to come to mind and inform the decisions I make today.
Here are 6 important moments that shaped how I view workplace learning.
My First Time on a Register
I was scared of speaking to people as a kid. So then why did I decide that a cashier position was a good first job? I was extremely nervous. The POS was confusing. The operation was very high-volume. I had never handled money before. And that fear of people thing …
But I still remember how supported I felt the first time I practiced on a register. My trainer ran me through scenarios and provided great feedback along the way. It wasn't an online simulation. It wasn't in a classroom. It was in the real operational environment, but in a section that was closed for training purposes. His training did more than just make me more knowledgeable. That was the moment when I realized how good support can bolster your confidence.
A Bad First Day
I started my next job 5 years later. This time, I came in with solid experience. I had been promoted several times over the years and dealt with plenty of challenging situations. I was still a manager in another organization, but I had also picked up a part-time gig on the weekends. It was a way to try something new but with less stress and responsibility than my full-time job. That said, this was still only my second real job, and this was a very different environment. I was both nervous and excited.
"Dillon?" That's all my trainer said as he waved his hand at me from across the room as a signal to follow him. No introduction. No welcome. He didn't even use my first name. He proceeded to have 3 or 4 conversations with people we encountered on the way to our location before really talking to me. As a new employee, I felt ignored and confused. As a manager with years of customer service experience, I felt annoyed and resentful. This was not how anyone should be treated on their first day. Or any day. That moment reminded me how important it is to make sure the people you work with feel supported from day 1.
What Comes Next?
A few years later, I was an L&D manager within the same company. My team focused on designing and delivering customer service training. We completed our big project, during which we delivered a brand new class to every employee. Then, we flipped into sustainment mode, delivering the class to new employees after their first few weeks on the job. Everything was going well. People liked the class. I'd been promoted along the way. Good stuff all around!
But once all of the hype and energy around the project faded, something started to naw at me. I couldn't help but wonder what our impact on the organization really was and what that meant for our value. Our survey scores were great. Executives were pleased. It felt like we were doing good work. But something was missing. So I asked my boss: "what comes next?" There was no answer. We just kept chugging along, doing the same thing … until the entire team was laid off and I was transferred to a different role. That moment showed me that the only measure of L&D success that matters is how you are impacting business results on an ongoing basis.
Wikipedia, But For Here
Another company. Another L&D management role. This time, I was in a contact center. My team was chugging along, delivering loads of classroom sessions and building click-next-to-continue eLearning modules by the dozens. I was hired to bring a new perspective to the team, but stakeholders demands had us pinned down. We wanted to try new things, but we just didn't have the time or resources.
Then we lost our primary eLearning developer. I stepped in to finish his Captivate work. When I went hunting for source material on the company intranet, I couldn't find anything. I figured I just didn't know where to look because I was new, so I asked around. No one could find anything. Not only that, but I noticed how many training requests seemed related to missing reference information. In that moment, I recognized that the foundation of workplace learning was shared knowledge – not training. The ability to quickly solve problems that arise in the moment, not go to a class or click through an eLearning.
I went to my boss and suggested "What if we just build something like Wikipedia, but for here?" She wrote "Wikipedia" on a post-it note and stuck it to her monitor. It stayed there for 2 years until we started building the knowledge sharing mechanisms that would quickly change how the organization perceived learning.
The Layoff
A few weeks after I asked the Wikipedia question, management laid off almost half of the company's employees. I didn't lose my job. I didn't know many people who did because (strangely) L&D wasn't hit. And this wasn't my first (or last) corporate layoff experience. But I was personally impacted. I felt like it was my fault.
I couldn't have stopped the layoff from happening. But I should have known it was coming. My work should have reflected the challenges we were facing as a business. But instead we were just taking orders and making sure everyone liked our work. The layoff was clearly the fault of management, but internally I took some of the blame. That moment reinforced the importance of keeping L&D strategy firmly connected to business priorities. We should be fighting for the same results as our partners and stakeholders. If they succeed, we succeed. If they fail, we fail.
A Whiteboard Drawing
Fast-forward a few years to another new role. I was invited to an all-day session with a new client group. They were looking for help developing an overarching vision for L&D and couldn't quite see where we fit. Stakeholders thought I could bring additional perspective given my outside experience with large-scale enterprises. I agreed, but I had no idea what I was going to talk about. I had plenty of experience to share, but I hadn't had much time to shape a vision in my new role.
I reviewed decks from past industry events for inspiration. I came across a 2015 webinar during which I had tried to visualize how I was aligning L&D tactics with how people actually learn at work. It was a very ugly slide. It was also specific to the company I worked for at that time. But it was mentioned so much after the presentation that I figured something was there. So I pulled it.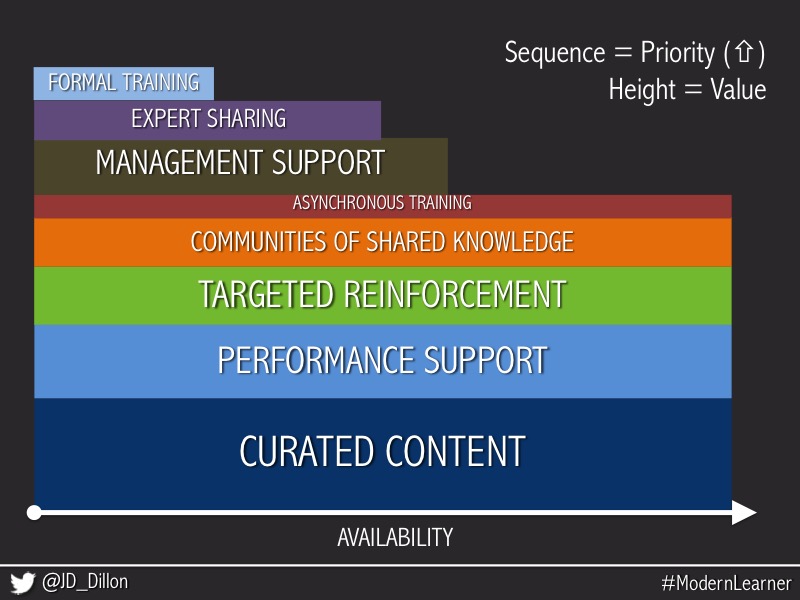 I had the slide sitting on my screen during the client meeting. As the conversation progressed, I was asked for my thoughts on how to design a strategic vision for learning within their business. I went to the whiteboard and drew an early version of this.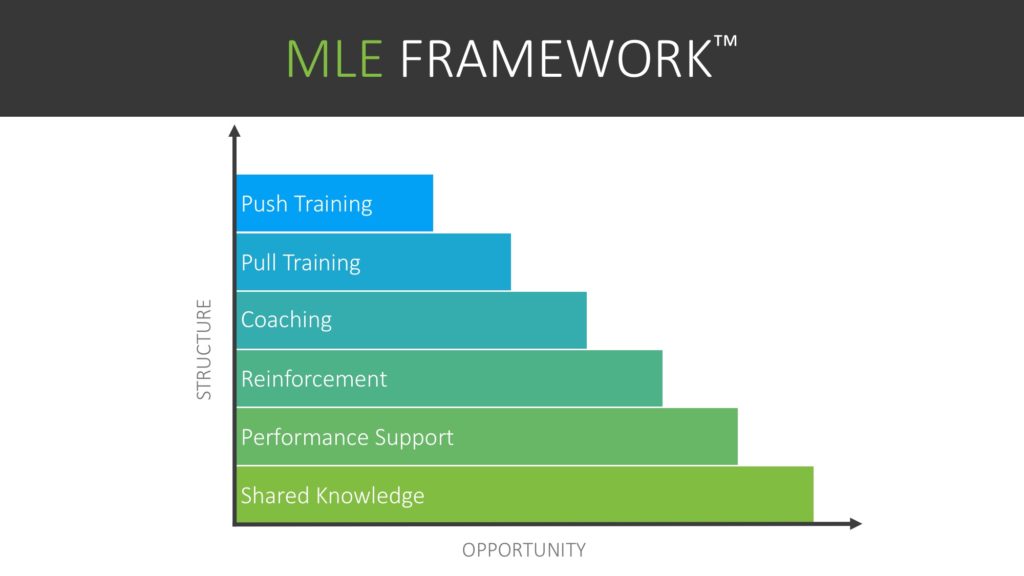 Since that day, the MLE Framework has become the foundation for how I approach workplace learning and performance challenges. It's also the concept to which I am most often connected. In that moment, I realized how all of my experiences had shaped my mindset in a way that could help others reframe the role learning plays in the workplace.
---
Were there distinct moments that shaped who you are as a professional and how you do your job today?