Full Disclosure! I am the Chief Learning Architect at Axonify as well as the Founder/Principal at LearnGeek. I contributed to the creation of this report.
I believe the information is worth exploring independently to highlight key insights that can enable workplace learning professionals, regardless of their familiarity with Axonify.
---
Axonify released it's first Microlearning Global Benchmark Report this week. The report is based on data from 8 million microlearning sessions completed in 2017 across 78 organizations and 360,000 employees. It's one of the first practical, data-centric looks at the application of microlearning across a variety of industries. You can download the report on the Axonify website and watch a recording of the launch webinar with myself and CEO Carol Leaman.
The report is designed to help learning professionals cut through the noise and clutter surrounding microlearning and get to the real value based on how organizations are applying the concept in the real world. While the foundational data is based on the Axonify definition and application of microlearning, there are plenty of great takeaways for L&D pros who are trying to understand how to best apply modern learning tactics in their work.
Here are 5 key insights from the report that may help you influence your peers and stakeholders towards a right-fit approach to workplace learning.
Note – All screenshots below are taken from the report launch webinar presentation. 
---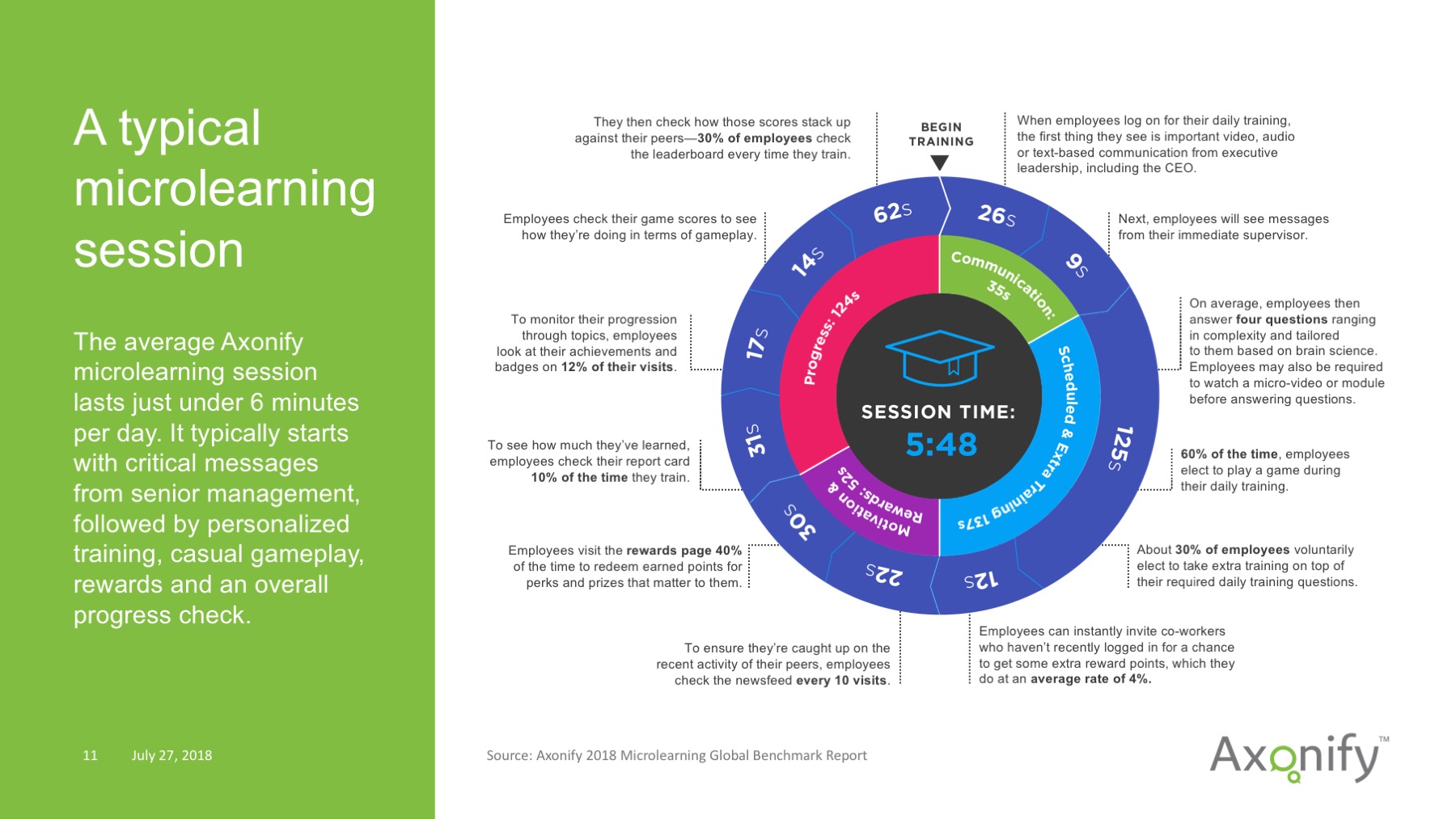 The Anatomy of a Microlearning Session
This visual seems to be generating the most conversation so far. With so much of the microlearning discussion wrapped around theory, people want more concrete, practical detail. Of course, you need to understand the principles to properly apply them. At the same time, plenty of people ask me "but what does microlearning actually look like?" This graphic breaks down the average Axonify microlearning session based on how frontline employees engage with the content and technology. First, it shows how much can be accomplished during a voluntary 6-minute training activity. It also validates how various game mechanics support continued and sustained engagement. Finally, it demonstrates how useful fostering the habit of everyday learning can be to support timely communication in addition to targeted learning.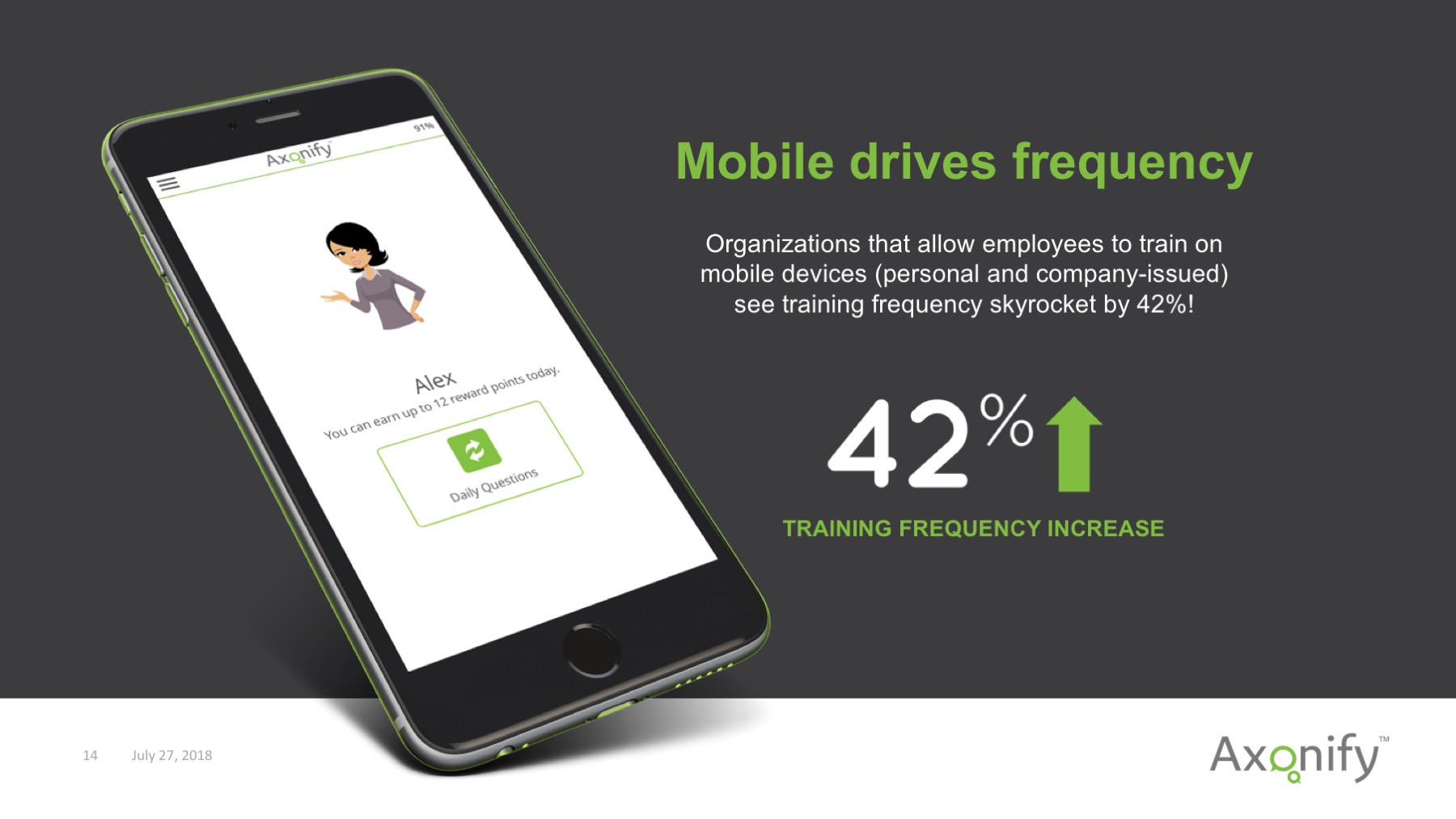 Mobile Availability Drives Engagement
Are you trying to make the case for the introduction of mobile devices or a BYOD policy? Here's some useful data! It seems like common sense, but the report validates the idea that employees will engage more frequently in learning activities when they are more accessible, especially when they are on the devices they already use all the time. 42% is a big increase! Keep in mind that the experience must be built for ubiquitous access, not just slapped onto a smaller screen. No one wants to complete a 30-minute eLearning module on their iPhone (or tablet … or desktop for that matter). The experience must be designed for mobile enablement.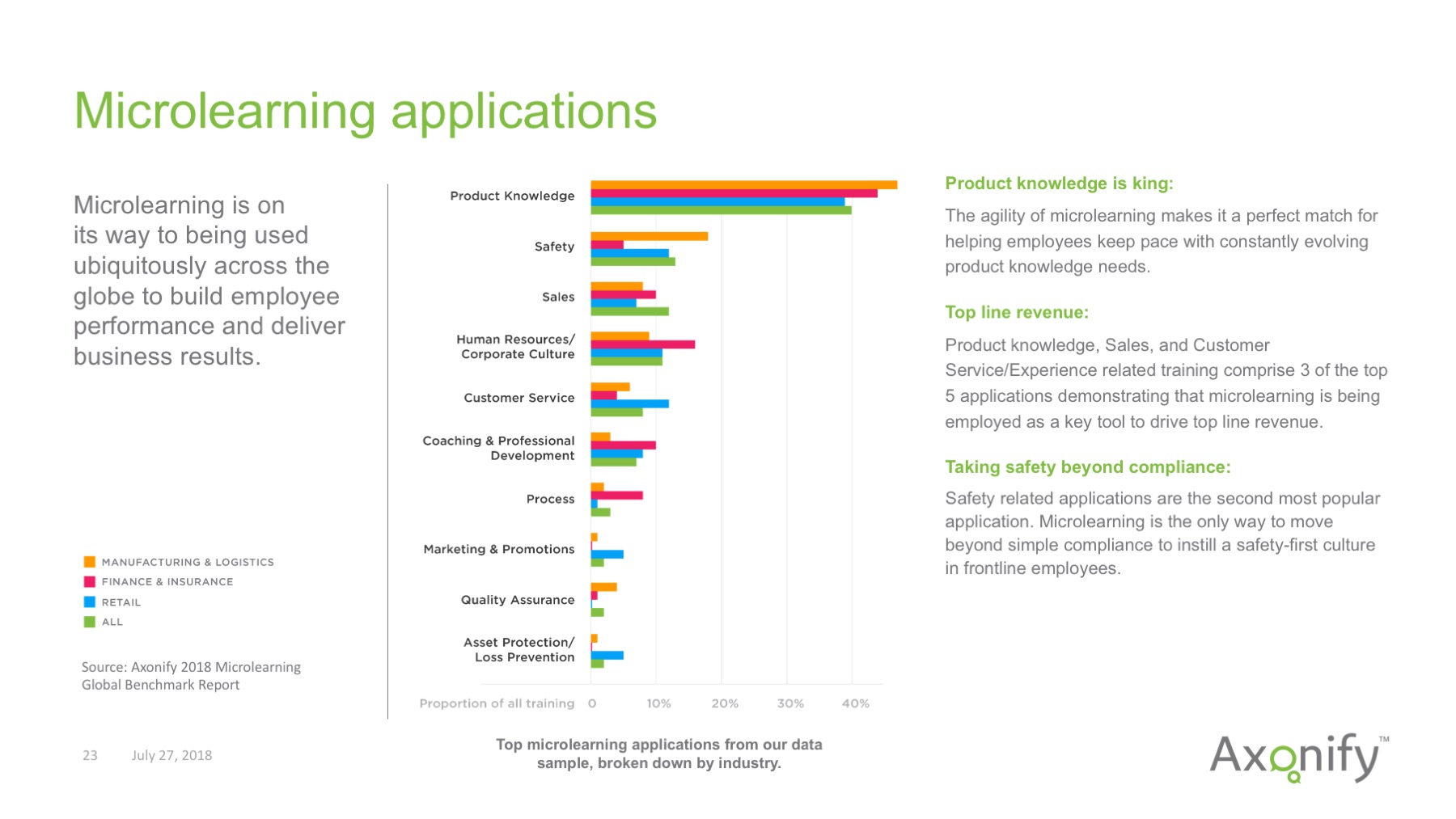 Microlearning Drives Agility around Critical Business Priorities
This slide displays the top 10 applications for microlearning within the cross-industry research sample. Frankly, this list doesn't deviate very much from the topics on which L&D already spends most of its time. But what does that mean? First, it shows a direct applicability for microlearning with topics that are of critical importance to the organization, including product knowledge, sales and customer service. Second, when combined with anecdotal evidence, it demonstrates the agility of microlearning principles to address and keep pace with the changing needs of the business. That's why product knowledge is by far the most commonly-applied use case. With a traditional approach (classroom sessions, long-form eLearning), L&D just can't keep up with product releases. The targeted nature of microlearning combined with a continuous learning experience gives L&D a new, scalable means to solve this problem.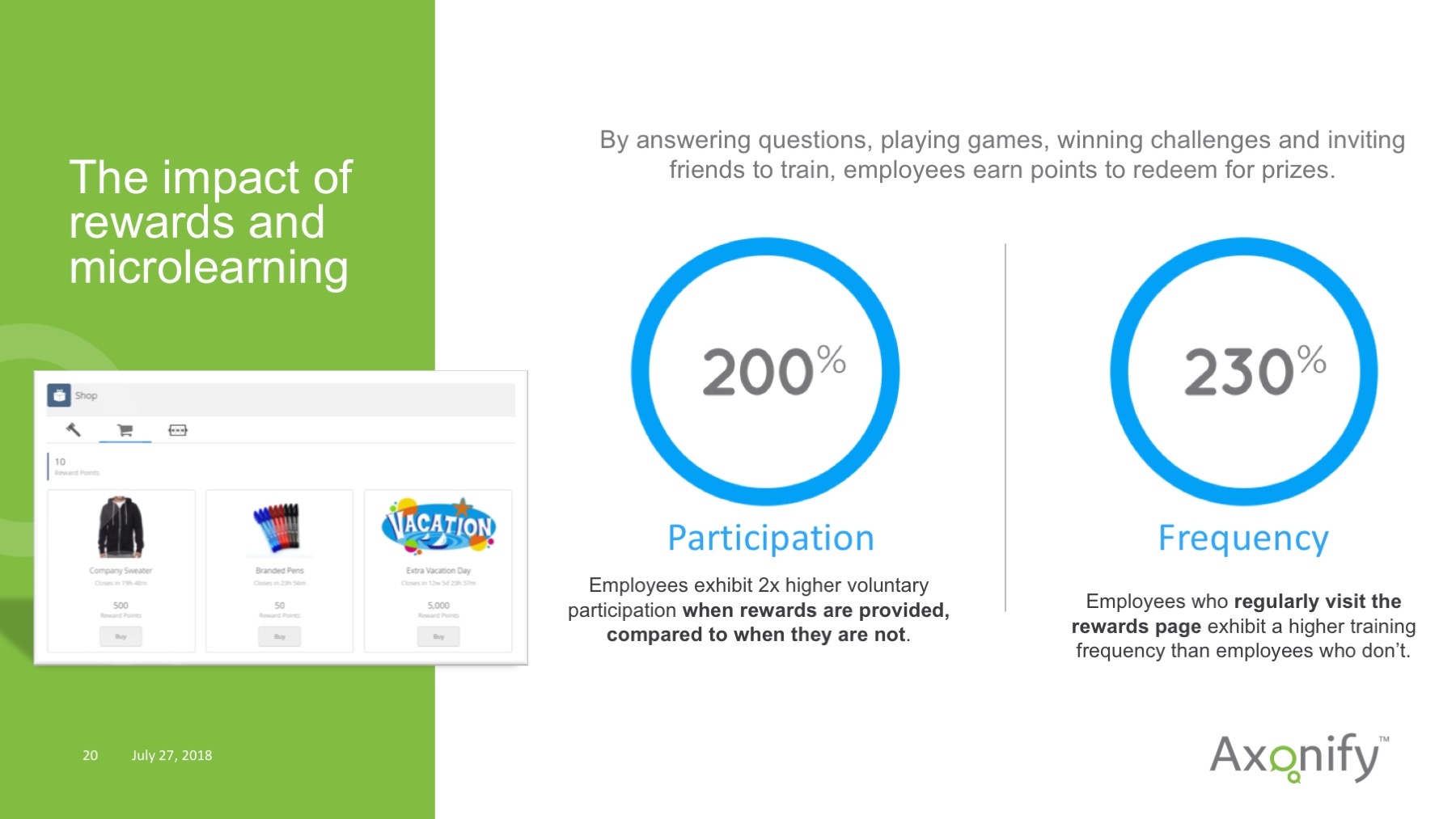 Rewards Also Drive Engagement
It took me months to convince the executive team at a past company that it was perfectly OK to reward employees who made an effort to engage in learning activities. Something about it just didn't sit right, as it was an unfamiliar tactic that felt akin to bribery. But … it works … when done well, of course. Whether it's tangible prizes, such as swag and gift cards, or designations of status, rewards are a powerful motivator for some employees. The report validates this idea with HUGE engagement numbers for organizations who leverage rewards programs. But be cautious. Just giving away prizes for completing training won't drive performance, and not every employee will be motivated by rewards. The introduction of any game mechanic must be thoughtful and contextual to fit the needs of the audience as well as the culture of the organization.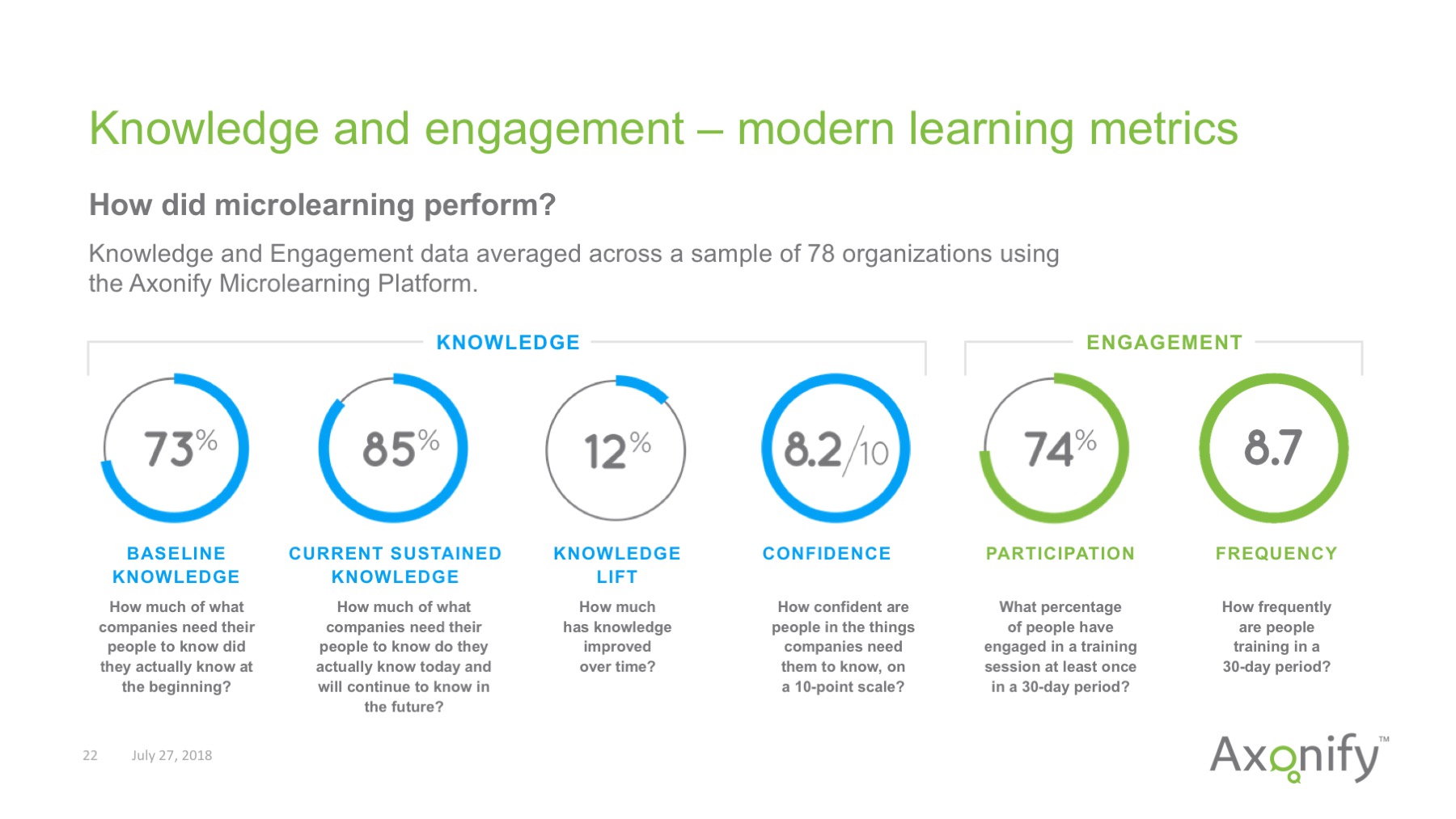 Microlearning Enables New Forms of Measurment
Completions and test scores are insufficient measurements of learning and performance. Business KPIs are a critical component of any analytics strategy. But what other measurements should be considered? While promising, the xAPI conversation still tends to focus on content-driven metrics. What people watched. How long they spent on a screen. Etc. When you introduce the habit of daily learning, you can move beyond content to real-time measurement of knowledge and behavior. The report includes a sample of "modern learning metrics," including knowledge lift and self-reported confidence. When this data is combined with behavior observations, organizational context and business results, you can better understand the impact learning resources are having on the business. Microlearning, with it's focus on specific, measurable problems, is a great place to start when it comes to expanding your data strategy.
---
What are your takeaways from the Axonify 2018 Microlearning Global Benchmark Report? Were you surprised by any of the insights presented? How can you leverage the report to support the transformation of your L&D strategy?