It's the most WONDERFUL time of the year! Well, maybe the SECOND most wonderful. It's time for my FAVORITE L&D conference, the eLearning Guild's Learning Solutions Conference and Expo (with a side of Learning and Performance Ecosystem). Not only is this conference in my backyard (Walt Disney World Resort), but it's also a great blend people, presentation and activity. Better yet, it's not in Las Vegas!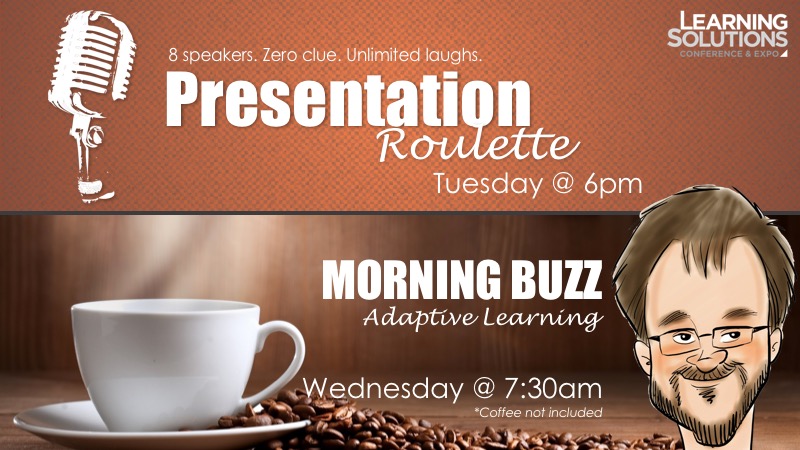 My LSCon experience this year will be cut a bit short, as I'll be flying out on Thursday night to speak at ATD Core 4 in Long Beach. However, I was sure to cram as much fun into my 2+ days as possible. I'll be participating in 5 different sessions, which is my new single-event record. I also shared a few local tips in my post Your #LSCon Guide to Disney Springs to help conference goers find some quick after-hours options across the street from the Hilton.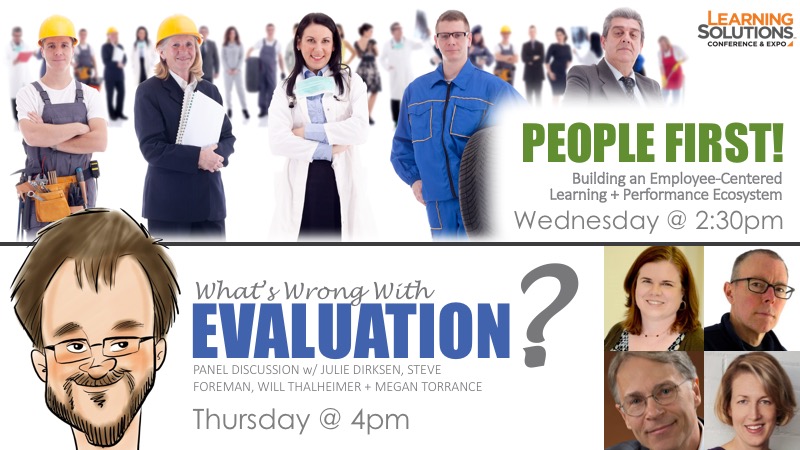 My schedule is a bit tight this year, so I don't know how many sessions I will actually get to attend. Regardless, it's always important to approach a conference with plans A, B and C. To that end, here's my LSCon agenda. In addition to my 1st choice session for each time slot, I have listed my alternative as well as a recommended session from a member of my personal learning network (PLN).
I hope to see you in Orlando later this month. Please drop me a message if you'll be in one of my sessions, or just say HI when we pass in the halls!
---
Tuesday, 03/21
6pm | Presentation Roulette (ME!)
8 L&D pros – including me – will face off in a battle of improv presentation delivery. 5 minutes to present. 15 slides I've never seen before on a random L&D topic. Hilarity for all! 
Evening plans TBD …
---
Wednesday, 03/22
7:30am | Morning Buzz: Adaptive Learning (ME!)
I'll be facilitating an open discussion on the use of data-driven adaptive learning within a modern learning ecosystem.
8:30am | A Natty Approach to Learning and Education (Tim Gunn – GS01)
10:45am | Moving Your Organization to Continuous Learning (Frank Nguyen – ECO112)
ALT: Investigating Performance Using Data (Janet Laane Effron + Sean Putman – LS105)
SUGGESTED: Copyright and Creative Commons: How to Find, Use and Cite Resources (Stevie Rocco – LS109)
11:45am | Lunch + Expo
1pm | Building a Learning and Social-Collaborative Ecosystem in Slack (Mark Sheppard – ECO212)
ALT: Sticky Learning: Ensuring Transfer (Jean Marrapodi – LS202)
SUGGESTED: Research Says: Current Research to Inform Practice (Stevie Rocco – LS207)
2:30pm | People First! Building an Employee-Centered Learning Ecosystem (ME! – ECO312)
I'll be sharing my framework for developing a continuous, user-centric learning and performance ecosystem.
4pm | The Path from Instructional Design to Learning Experience Design (Marty Rosenheck – EME107)
ALT: Leverage Informal Learning to Transform Your Organization: Purch's Story (ECO413)
SUGGESTED:Learning and Performance Ecosystems: Building Learning into the Workflow (Steve Foreman – ECO412)
5:15pm | It's Time for The Family Feud: L&D Edition (ME! – T108)
In my 3rd presentation of the day, I'll be hosting an L&D-themed version of the Family Feud alongside the Axonify Team. 2 families of LSCon participants will show off their industry savvy for some awesome prizes!
Evening plans TBD …

---
Thursday, 03/23
7:30am | Microlearning (Ray Jimenez – MB24)
ALT: Balancing Cutting-Edge and Tried-and-True (Kristen Hull – MB20)
SUGGESTED: Where Do You Find Your Inspiration (Diane Elkins – MB15)
8:30am | Harnessing Creativity in a Time of Technological Change (Glen Keane – GS02)
10am | It's Time to Rethink the LMS (Carol Leaman – EME201)
10:45am | Learning Management System Success in Six Months or Less (Jessica Salinas – ECO513)
ALT: Reimagining the New Hire Experience for the Modern Learner (Allan McKinley – STR202)
SUGGESTED: From Content Creation to Content Curation: An Emerging Critical Role (Marc Rosenberg – ECO512)
11:45am | Lunch + Expo
1pm | Leveraging Peer-to-Peer Learning in Your Ecosystem (Catherine Lombardozzi – ECO614)
ALT: Story: The Wholistic Design Approach (Katie Stroud – LS601)
SUGGESTED: Mindsets, Toolsets and Skillsets for Modern Blended Learning (Jennifer Hoffman – ECO613)
2:30pm | Speed to Relevance: Measuring the Success of a Learning Ecosystem (Adam Weisblatt – ECO714)
ALT: Resilience: The Future of Performance Support (Julian Stodd – ECO715)
SUGGESTED: Neuroscience and Learning: Wha the Research Really Says! (Will Thalheimer – LS701)
4:00pm | Panel: What's Wrong with Evaluation? (ME! – LS805)
I'll be moderating the panel of Julie Dirksen, Will Thalheimer, Steve Foreman and Megan Torrence in a discussion on the value of effective learning and performance evaluation. 
Headed to the airport and ATD Core 4 in Long Beach!
---
What's your schedule look like for LSCon 2017? Be sure to say HELLO if we run into one another in a session – or hallway – or theme park attraction.
JD Dillon is one of the most prolific authors and speakers in workplace learning today. He has spent 20 years designing learning and performance strategies for respected global organizations, including The Walt Disney Company, Kaplan, Brambles, and AMC Theatres. JD is the founder of LearnGeek and Chief Learning Architect with Axonify.