How'd you get good at speaking?
That's probably the best question you can be asked after an 8-hour workshop, right? I'd assume it means you did something right, at least in the eyes of that participant.
This inquiry came my way earlier this week during the "any last questions" moment of my Networking in the Digital Age workshop. The participant who volleyed the question was particularly soft-spoken, which made me believe public speaking is not quite her thing. I figured if they could deal with me for a full day, 1 more story wouldn't hurt. So I regaled the small classroom with the story of how I went from SCARED TO DEATH to speak in public to a career that puts me in front of hundreds of people on a regular basis …
---
As a child …
I was a quiet child. A VERY quiet child. I didn't like to talk to people at all. If I did talk, you probably couldn't hear what I was saying. Definitive introvert. I was once selected to read a passage at a grade school assembly. I froze in front of everyone before putting my head down and muscling my way through the reading as quickly as possible. Embarrassment.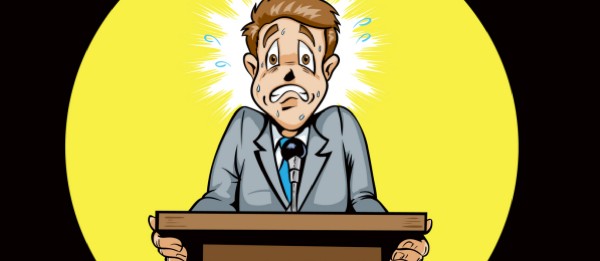 This fear continued into high school, where I encountered speech class for the first time. I went to a very small school – 400 students. There were 15 people in my speech class, and I had known them all for over a year at that point. On the first day, we had to get up and talk about ourselves for 2 minutes. I couldn't do it. I still got an A in the class, but it was definitely a mercy A for effort.
While I had a pile of extracurricular activities, lettered in ice hockey, and was at the top of the class academically, I didn't even apply to be salutatorian. I wanted to, but there was no way I could pull that off, especially after I had recently made a fool of myself when I got up to accept an award at scholarship banquet. The struggle continued.
Then came college …
When it was time to pick a college, I made a seemingly odd but necessary choice. Rather than follow my classmates to popular universities in the Philadelphia area, I went 1,200 miles away to the relatively unknown University of Central Florida. Academics were still important, but I knew I had to get "out there" and try new things. Plus they sent me a super cool brochure with a picture of the reflection pond (below) on the cover.

Upon arrival, I made sure that speech was the first class I took. The need to speak in front of groups was coming up more and more, and it was time to get past the fear. I performed noticeably better this time around, but that was mostly because the professor allowed us to read our speeches while presenting. I got another A, but I definitely hadn't fixed the problem.
I was required to complete service hours as part of my UCF scholarship. But, as a freshman in my first semester, I didn't have a car, and I didn't know anyone. I was looking for ways to volunteer when I came across the Undergraduate Admissions Tour Guide Program. I could record a service hour for every tour I led AND get a free polo shirt. Despite my well-known fear of public speaking, I signed up. After all, I had to get those hours in somehow or risk losing my scholarship.
The ad lib that changed EVERYTHING …
The training program for tour guides was pretty typical. They gave me a script and required me to shadow a series of tours by experienced guides. Then, I would get to lead my own tours while being followed and reviewed by those same guides. After a few weeks, I could start leading tours on my own. So I got started, shadowing my first tour while reading the script in the back of the group. A week later, I arrived at 10am on a Tuesday to shadow my second tour … but …
The tour guide didn't show up. It was just me and 6 visiting families waiting around until about 10:05. I was wearing my UCF polo, so the information desk person looked to me to figure things out. Talk about a THIS IS IT moment! I put the script in my back pocket, gathered the families and walked outside – in front of that pond I mentioned earlier. I was scared OUT OF MY MIND as we hit the first stop.
I started off shaky at best, describing everything within sight to the best of my limited knowledge and quickly pushing on to the second stop. I pulled out my script and quickly reviewed the speaking points for the next area, which included the College of Education and Greek Life. We stopped, and I again started shakily explaining everything we could see.
Then it happened … The moment that changed EVERYTHING for me … And not just as related to public speaking ….
In the distance, you can see Greek Row, home to our on-campus fraternities and sororities. About 12% of the student body is involved in Greek Life, so by no means do you have to be Greek to be popular.
That was the basis of the scripted info. But then I added …
I'm not Greek, but I'm also not popular.
They all laughed. Like REALLY laughed. And it just clicked. One self-deprecating ad lib had killed the fear. It wasn't just about being funny. I had connected. By the time that tour was over, I had found my voice – a way I could comfortably interact with a group of people. And I couldn't get enough.
The training grounds …
It started with tours. I volunteered as much as I could, sometimes leading 2 tours a day 3 or 4 days per week. I found ways to make the script my own. Then I joined the campus radio station, working on my voice and personal style without having to face down an audience. With AMC, I was the designated audience greeter as well as the guy you sent in to placate the theater when things went wrong. Talk about learning how to play a crowd. At Disney, I was a skipper on the World Famous Jungle Cruise and a gangster/bandit on The Great Movie Ride. Enter character development, pacing and audience interaction. Then, while in L&D with Disney, I facilitated … and facilitated … and facilitated. Welcome to the power of storytelling.
That brings us to today and my L&D industry work. I realized a while back, when I was spending most of my time in an office, that I have the most fun and feel most useful when I'm in front of people. Luckily, my current role affords me that opportunity on a regular basis. Conference sessions. Webinars. Workshops. Consulting. A few webshows and some podcasting – personal and professional – are hopefully coming soon. I know how much I enjoy sharing. Hopefully the audience still likes hearing what I have to say.
---
I've gone from a kid who couldn't talk about himself in front of 15 peers to a professional who can't wait to get in front of hundreds of strangers to share his stories and ideas. That's what makes the titular comment from my workshop participant this past week so meaningful, and why I take the time to tell this story whenever possible. While I've never really had formal training, I've had a variety of amazing practice opportunities throughout the past 15 years that helped me develop the skills I continue to refine today.
The same participant made 1 more comment after I finished telling this story.
You're just so open and honest when you speak.
I guess I'm doing something right.
---
What about you? Have you ever been afraid to speak in public? After all, it is the #1 fear among adults. How did you overcome this apprehension? Are you still working on it?