No, I'm not talking about this …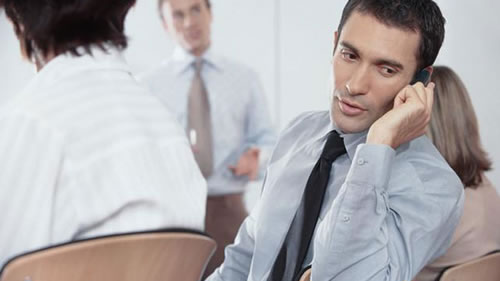 That's pretty much always inconsiderate. I'm talking about something more like this …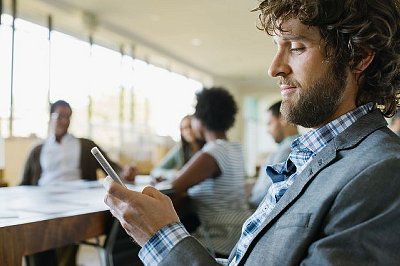 Admittedly, the photo is a bit odd given how far away the guy is positioned from what seems to be the rest of the meeting. But what if he was sitting at the table while looking at his phone? Would this be OK in your organization? Is it OK to you?
Ooooooooooo … I'm in trouble …
I use my phone for EVERYTHING. I often find myself sitting in front of my laptop, using my phone to tweet or search for information. Its just a more comfortable experience for me. I also use my phone to take notes during meetings and events. Even I can't read my handwriting most of the time, and I find myself having to scratch out words too frequently when I use paper and pen. I don't like having my laptop open during discussion. It distracts me.
Unfortunately, I have been called out multiple times over the past few years for using my phone during meetings. People assumed that phone = distracted and/or disinterested and therefore viewed me negatively. Meanwhile, I thought I was actually more engaged than many others. I was taking a pile of notes and pulling up extra information when a discussion point triggered a new idea. Was I wrong?
I even attended a meeting of senior managers in which an executive required everyone to hand in their phones for the full day because they didn't trust people's ability to pay attention. These were SENIOR managers in the organization! Given my preferred way of working (and the fact that I'm an adult), I was a bit more than agitated, but I didn't use my phone for the duration. I also walked away from that day with noticeably less recorded insight.
These experiences left me to wonder: was it me or was it them?  Shouldn't work practices have caught up to modern technology? Was I just more progressive for some reason? Upon reflection, I now believe that …
It was everyone …
I firmly believe people should be enabled to do their jobs in the best way they see fit based on established expectations. No, this isn't a generational thing. It's about respect, resourcefulness and accountability – regardless of demographics. So, if people prefer to record digital notes, they should be permitted – even encouraged –  to do so. If this is not an accepted or well understood practice, it should be communicated proactively and not left to interpretation.
The problem: this isn't how a considerable portion of the working world thinks. I should have recognized that not everyone views my working habits with the same regard. Everyone has their opinions and experiences, and they will likely conflict with my own more often than I'd like. Therefore, I too should have been proactive in my approach and taken steps to ensure nothing was left to interpretation, especially when in gatherings with unfamiliar partners.
But that senior manager thing … that's still ridiculous! If you believe you must collect people's devices during any session to ensure attention, you should start questioning your content and facilitation skills. It's probably not about the phones …
Getting proactive …
I still use my phone for everything. However, I have become more aware of potential interpretations and take the following steps …
When attending my first gathering with a new group, I handwrite my notes. My phone stays hidden. I don't want a perceived conflict in work styles to get in the way of a new relationship.
After a while, I look for the right opportunity to transition to my phone. In doing so, I openly express my intent by saying "I'd like to use my phone to take notes during our discussion. Is that OK with everyone?" I have yet to hear a negative response.
I disable network connectivity and take notes offline to limit distractions from incoming messages and notifications during the meeting.
I still have paper and pen available during all meetings, as even the appearance seems to confirm engagement – even if they are never used.
I often share my digital notes with meeting participants thereafter as a way to help others benefit from my working habits (and subtly confirm that I was indeed taking robust notes).
I openly discuss my digital note-taking and research habits, including preferred apps and device shortcuts.
More often than not, I'm the guy people look to for a quick answer during conversation – because I always have my phone available. My peers also know I have detailed notes from pretty much every meeting. My ability to share as a result of my work habits now overcomes possible challenges of perception thanks to my reflective learning and continued proactive approach.
So yes, I do believe its perfectly acceptable to use your phone during meetings … if you do it correctly …
---
What do you think? How do you look at people who use their phones during meetings? Have you been perceived negatively? When is it perhaps not OK regardless of intent?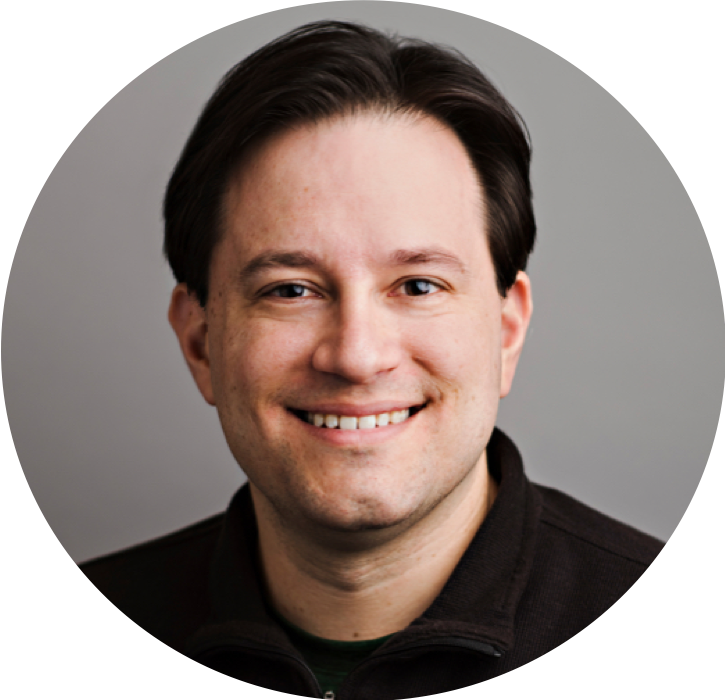 JD Dillon is one of the most prolific authors and speakers in workplace learning today. He has spent 20 years designing learning and performance strategies for respected global organizations, including The Walt Disney Company, Kaplan, Brambles, and AMC Theatres. JD is the founder of LearnGeek and Chief Learning Architect with Axonify.