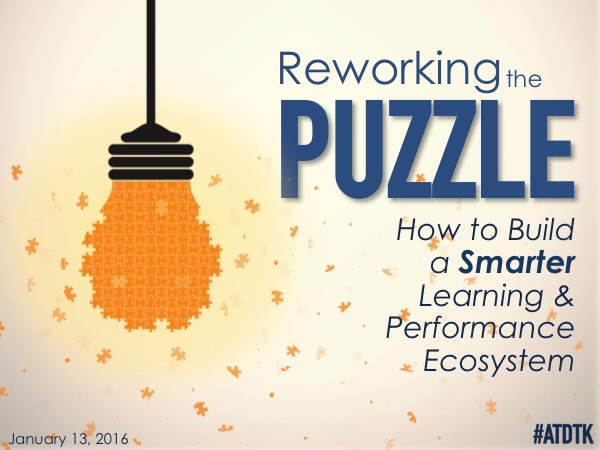 I'll be presenting twice as part of ATD TechKnowledge this week. If you're in Vegas for the event, stop by Forum 14-16 at 10:45am PDT on Wednesday for my 'Reworking the Puzzle – How to Build a Smarter Learning & Performance Ecosystem" session. I'll be sharing the story of how my past team evolved our definition of organizational learning and development to better address employee needs within a modern workplace ecosystem.
Below is a quick summary for those who are unable to attend. While my full visual presentation will be available on SlideShare once finalized (late Tuesday), here are the 3 most useful ideas I plan to discuss during the session.
---
"Escape the bubble."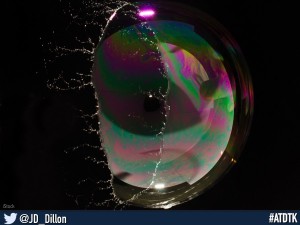 We often refer to L&D as a "shared service." At first glance, there's nothing wrong with this reference, as we tend to make ourselves available to multiple departments as an on-demand support partner. However, beyond the language, the "shared service" mentality contradicts our continued quest for the proverbial seat at the table. It invites other departments to view L&D as a team that's only there when you WANT them as opposed to a constant and valuable presence. This limits L&D's potential value. It also hurts our ability to be consistent in our methods for supporting different parts of the organization, ultimately fracturing the end user experience.
To support the shifting ecosystem of the modern workplace, we must escape this bubble and position ourselves as an integral part of the employee experience. Rather than swinging for the fences with each project and attempting to provide one-size-fits-all solutions, we must stress the moment of need and provide flexible resources to meet the unpredictable and evolving needs of the individual employee. We must establish our subject matter credibility and position ourselves to continuously influence others rather than just take orders. This includes the ability to say NO – regardless of political pressures.
If we continue to sit on the sidelines and hide behind the fact that L&D is (usually) not a profit center, we will never be able to do our jobs to the best of our ability.
---
"Focus on the person – not learner."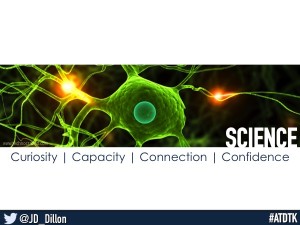 Here is another example of poor language choices. We need to retire the term "learner." Why? I've heard many pro/con arguments during the past few years. Personally, I don't like the word because it infers that we can identify when and how people learn. No! Learning is a constant and personal. People never transition to and from being a learner. People = Learners … so let's just call them people (or employees, team members, Cast, etc.).
We must consistently remind ourselves that L&D only exists to help PEOPLE – people who have largely set capabilities and inherent limitations. As I summarized in my post 4 foundational considerations for evolving L&D, we must ground everything we do in the science of being human and take advantage of what little we know about how the brain works. This includes our evolving understanding of concepts like:
Curiosity

: we are built to solve problems through exploration and collaboration

Capacity

: we have established limitations when it comes to memory and require continued reinforcement/application to aid long-term recall

Connection

: we both learn more effectively when we can connect new information to existing knowledge AND are inherently social, looking for ways to connect and share with one another

Confidence

: we are more likely to feel empowered and act when we have both knowledge AND confidence in our abilities
If we keep the human element at the center of our strategies, we can better deliver opportunities for performance improvement that flex to the individual while taking the full ecosystem into account.
---
"Everything affects everything."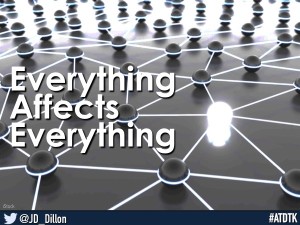 This statement summarizes my view of the ecosystem approach to workplace performance. As I have already reiterated, we must keep the individual employee in mind when developing L&D strategies. Therefore, we must acknowledge that – literally – everything affects everything in our organizations. It's not enough for us to create what we consider to be solid learning opportunities and make them available with well-structured communication and management support. We must understand the full context of the workplace as best we can – to the individual employee. We must ask questions like …
Where does true

authority

rest within the organization, and how does this influence performance?
What are the organization's

priorities

, and how consistent are they across teams?
How does work get done every day, and how is this impacted by organizational

logistics

and structure?
What

resources

(formal and informal) are employees really using and valuing every day?
How does

information

 flow through the organization?
While we cannot capture every possible piece of context for each employee, we must be reliably in touch with the front line and remember that our organizations are made up of complex networks that constantly interact – often without conscious awareness.
---
I hope to see you at #ATDTK later this week! Regardless of whether or not you attend, please share your thoughts on my 3 discussion ideas via comments below. I welcome your feedback and suggestions. If you'd like to discuss these ideas in more detail, let me know!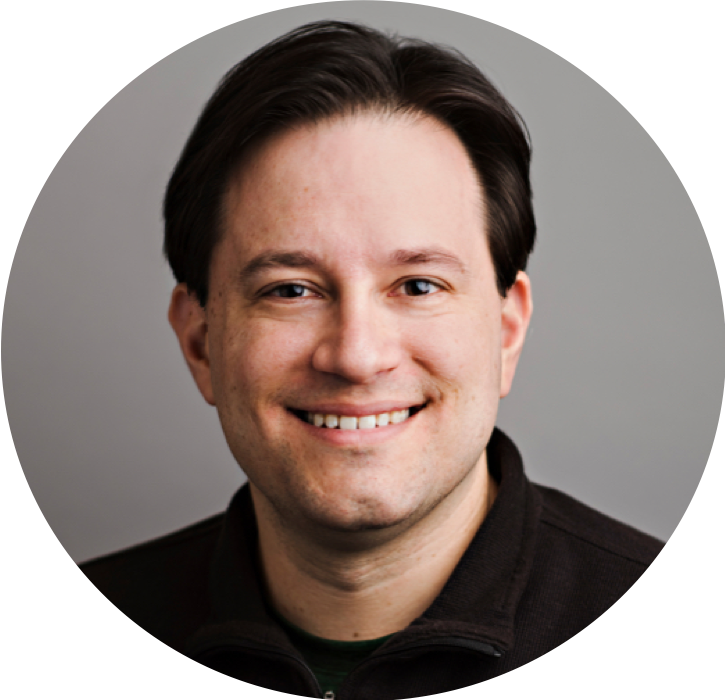 JD Dillon is one of the most prolific authors and speakers in workplace learning today. He has spent 20 years designing learning and performance strategies for respected global organizations, including The Walt Disney Company, Kaplan, Brambles, and AMC Theatres. JD is the founder of LearnGeek and Chief Learning Architect with Axonify.