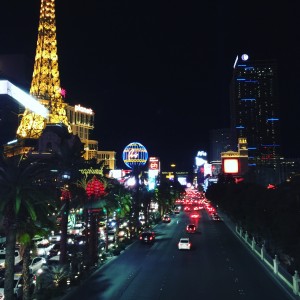 I'm back from Las Vegas … again. That's 4 trips to the strip in less than 2 years. While I'm definitely not a "Vegas person," each visit has yielded a fun, timely, and valuable experience – for both personal and professional reasons.
This time, L&D pros descended upon the deluxe resort that Caesar built for ATD TechKnowledge 2016 (#ATDTK). As a member of the program advisory committee (PAC), I've been talking about ATDTK for the past 7 months (mostly via Slack of course). Now that the event has wrapped and new-found swag is adorning participant desks around the world, it's time to reflect on my conference experience.
I won't really be "reviewing" the event or addressing session content in this post. Rather, I'm going to borrow from the final general session presenter – Brian Wong from Kiip – and focus on a few specific moments that defined my ATDTK.
---
"I love donuts."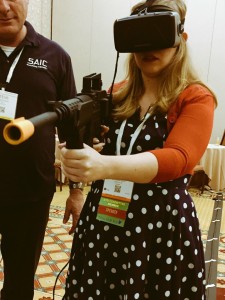 I don't know about you, but I expect at least one sing-a-long as part of every L&D conference I attend. At ATDTK, my wish was granted in the form of an "I Love Donuts" riff led by the guitar-wielding Rick Lozano. Rick shared his method for getting unstuck in his work through freestyle music composition as part of the Outside Inspirations discussion in the Disrupt Room. I gotta hand it to him – dude can jam (and Cammy Bean has some pipes)!
The TK PAC was especially interested in the Disrupt Room concept this year as a way to offer alternative, highly-interactive programming alongside traditional concurrent sessions and expo presentations. Building on an experiment from last year's TK, we pieced together hosted discussions and demos on topics including outside inspiration, eLearning development, VR/AR, social tools, xAPI, and real-world failure (aka Fail Jam). Based on the packed room and participant engagement, I hope future PACs will build on this idea and create more loosely-structured opportunities for participants to explore and share with their peers.
---
"L&D is always looking for a seat at the table – but then positions itself in another room."
I always review the conference backchannel immediately after I finish presenting in search for participant insights and feedback shared in real-time during the session. Inevitably, I find a single quote from me referenced multiple times as the primary takeaway.
During my 'Reworking the Puzzle' session (presentation below), I emphasized the need for L&D to evolve in support of the entire workplace ecosystem – beyond the bounds of formal training. I apparently ad-libbed the quote above regarding the often-discussed "seat at the table" and found it referenced numerous times on Twitter. If that's what participants were thinking about as they left my session, this session was a success!
In addition to my concurrent session, I shared simple tips for using Slack to reimagine workplace collaboration as part of the Disrupt Room series. I had a great time sharing my experiences during both sessions, and I truly hope the hundreds of participants with whom I interacted found actionable takeaways from our discussions. That said, I think the 30 minutes prior to my session may be the most interesting part of the experience for participants. If you don't know what I mean, be sure to hang out with me during my sessions at Learning Solutions 2016 – and show up early! 🙂
---
"Does he know what she looks like?"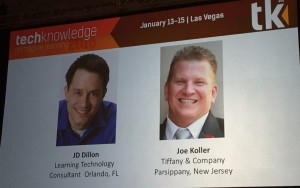 To my knowledge, the conference went off without a hitch. Well, one behind-the-scenes hitch …
Not to point fingers, but we kinda lost one of the PAC members on the way to a team meeting with the ATD staff. It was mildly humorous for everyone, and we eventually found her no worse for wear. But, we certainly didn't let the PAC member who SWORE she had already departed in a cab forget his transgression for the next 24 hours. 🙂
Transportation confusion aside, volunteering as part of this year's program advisory committee was a great experience. I spent time with an awesome group of people and had the opportunity to swap stories with some of the most respected and skilled people in my profession. I have no doubt that conference participants are as appreciative of the dedication, knowledge, and creativity of the PAC and ATD staff as I am. Well done, team!
---
"Thanks for letting me be an honorary Canadian."
I say it in every event recap – conferences are all about the people. I love speaking. Sessions and keynotes are great. But it's the hallway run-ins and lunchtime conversations that bring me back year after year. While we are almost constantly connected via social media, events like TK help reinforce personal and professional relationships in ways that online interaction cannot replicate. The longer I do this job, the more conferences feel like family reunions.
For example, I had an awesome time with peers from Canada during this event. In addition to catching up with the great people at Axonify, I tagged along for a few dinner sojourns with the "Canadian contingent" of Mark Sheppard, Bianca Woods, and Mike Vickers. It got to the point where I had to thank the crew for allowing me to be an honorary Canadian for a week.
I've only been home for a few days, and I'm already looking forward to seeing folks at Training 2016 in February and Learning Solutions/Ecosystem in March – both in my (almost literal) backyard!
---
"Event + Context = Moment"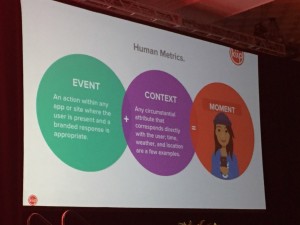 Time to bring it back around to Brian Wong …
We can find the person and engage with them when they're in an emotional frame of mind. If you can be there in those moments, something magical can happen.
This quote from a 2014 Hub article explains Brian's formula for just-in-time user influence:
Event + Context = Moment
I've spent a lot of time reflecting on my personal and professional goals lately. What do I love about what I do? Where should I focus my time and energy? How can I make better use of what I consider my core skill set? How can I get out there and really help push our industry forward? This was my context coming into this year's TK.
For me, this exploration alongside a well-crafted event and an amazing group of people created a series of moments that I know will influence my continued development – as an L&D pro and a person – for years to come. Thank you, everyone!
---
How was your ATDTK experience? Any particular moments that stood out? Will you be sharing your experience via blog or other media?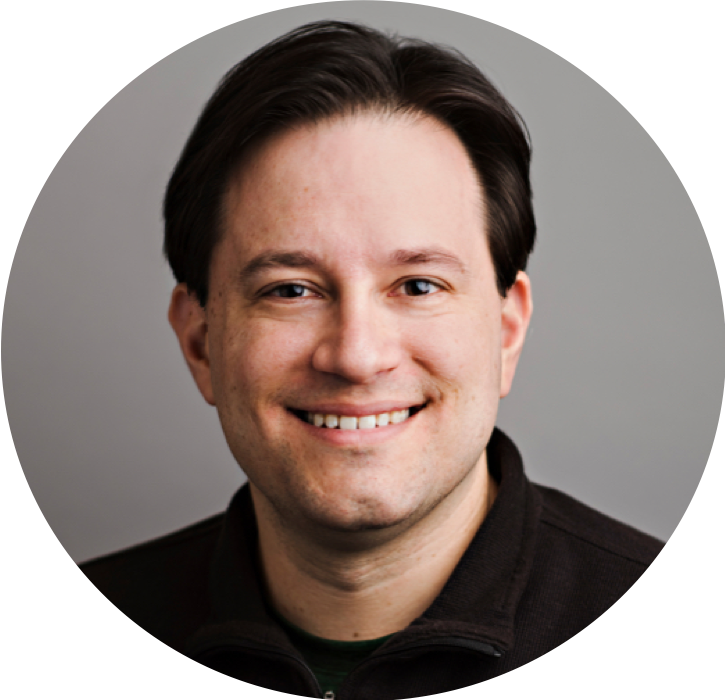 JD Dillon is one of the most prolific authors and speakers in workplace learning today. He has spent 20 years designing learning and performance strategies for respected global organizations, including The Walt Disney Company, Kaplan, Brambles, and AMC Theatres. JD is the founder of LearnGeek and Chief Learning Architect with Axonify.