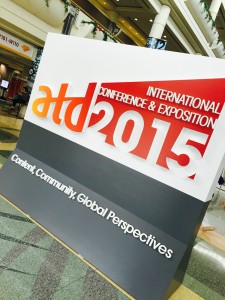 We're at the official two-week mark since ICE concluded … meaning I've had plenty of time to reflect on my conference experience.
Given that this was my 6th industry event in the past 7 months (DevLearn, TechKnowledge, Training 2015, Learning Solutions, Ecosystem, ICE), I approached my role as an attendee differently than I have during past ICEs. I didn't run around to get into every possible session (people > content). I didn't follow the "big names" (reputable companies, vendors, authors, etc.). I spent minimal time in the expo (are these guys following me or am I following them?). Overall, I experienced the event at my own pace (and fell slightly ill along the way – darn bad timing).
Here are just a few of my thoughts as I reflect on the 2015 ATD International Conference and Exposition …
---
Alongside workplace peers …
This was my first opportunity to attended a full conference alongside coworkers in a few years. My work group has made it a semi-ritual to attend the expo portion of Learning Solutions together every year – especially given our virtual nature (5 cities, 3 timezones), but the Kaplan group at ICE was composed of peers who work directly with me every day as well as individuals from other teams within our L&D organization.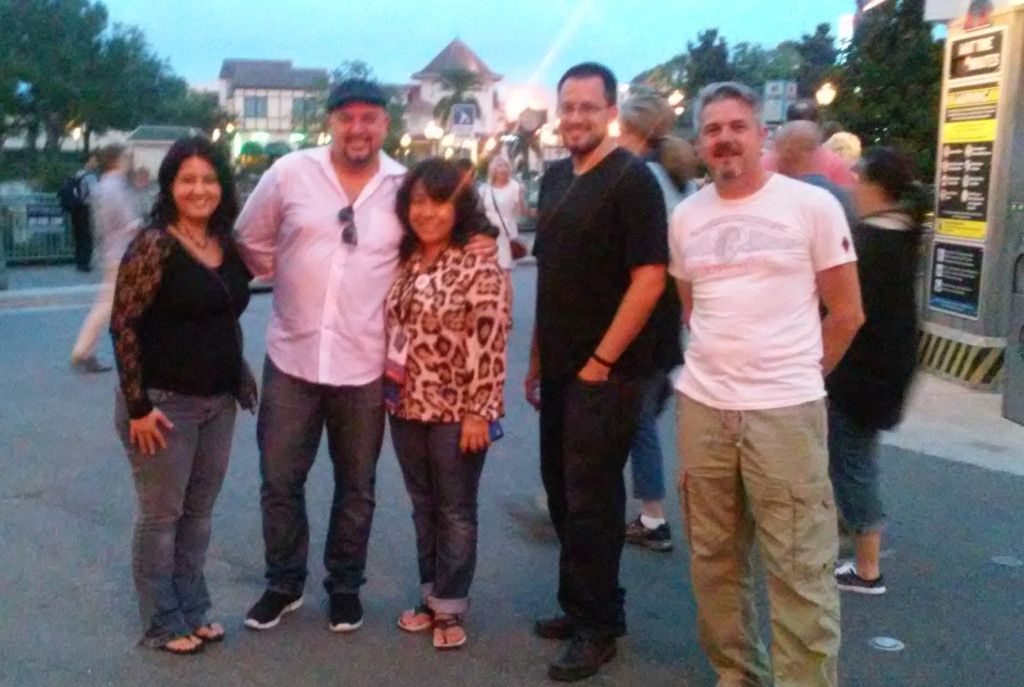 Yes, the photo from Networking Night is a bit blurry.
We'll add digital photography to our internal course offerings.
Beyond the enjoyment of spending time with folks away from the office, it was interesting to hit the biggest industry event of the year with a group that had little to no past experience with L&D conferences. I watched as they collaborated to plan their event experience in the weeks leading up to ICE, hearing the standard "newbie" suggestions like "should we divide and conquer to make sure we see as much as possible." In response, I leveraged my recent event experiences via my personal blog with posts like JD's #ATD2015 Conference Tips (which is good for everyone and most events BTW) to help them in their planning – stressing that they should make the most out of this experience as individuals rather than attacking the event on behalf of the organization.
As has been seemingly validated by their reflection posts in our company wiki, each member of the team had a valuable and unique experience at ICE. I'm glad I was able to help, and I enjoyed the opportunity to talk about things other than work with the team without using HipChat or Google Hangout.
---
Less about sessions, more about themes …
I didn't attend every session originally listed in My #ATD2015 Conference Schedule. I hit my most valued sessions (3 keynotes, Angel Green's session, multiple new format Community Theaters), but I spent at least half of each day using my time in other meaningful ways (explored below).
Based on the sessions I did attend as well as the conversations conducted in the halls and over lunches, here are a few quick prevailing themes:
Mobile is a thing … hmmmmmm … 🙂
Brain science is a sought-after concept, but some people are still looking for a formal model/solution as opposed to deeper understanding that can be applied within context.
Dr. Sugata Mitra is a wicked smart, funny, engaging, world-changing dude.
Panels are BY FAR my favorite session format at most industry events (ex: ICE's Community Theaters), but how can conferences evolve for those who want deeper engagement with the subject matter while still catering to first-time attendees who are new to the field?
Dan Steer OWNS the room – even if it's not his session!
Many people still unfortunately associate the use of video to support learning and performance with the antiquated notion of the "training video" (heavy production, professional quality, etc.). I thought we had come along further with this medium, especially given the trend towards chunked content. Maybe I have a new topic to explore based on my practical experience!
We still have a tendency to want to solve organizational problems with technology rather than first understanding the people we work with, our performance ecosystem, and the behaviors/competencies that lead to desired performance.
This wasn't the most active event backchannel I've seen this year. However, it was definitely the most heavily-tweeted ICE of all time (meaning I couldn't read every tweet this year). Progress?
---
My presentation – EVOLVED …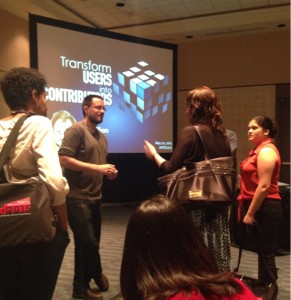 ICE represented the end of what I adoringly refer to as "JD's International Speaking Tour – in the Domestic United States." This was my 12th speaking engagement in the past 7 months, and the 3rd time I delivered this particular presentation since I first introduced it at DevLearn last year.
For those who didn't attend (shame on you), my Transform Users into Contributors session discusses the variation between learning and performance improvement in the real world and the workplace. I then make an awesome coyote analogy as a means to say L&D must evolve its approach to focus on connecting people with information rather than acting as creator and controller of learning. For more details, check out My #ATD2015 session in 10 bullet points and the SlideShare presentation (embedded below).
I have particularly enjoyed my "speaking tour" during the past few months because, as I have gone from event to event, I have watched the conversation evolve. Of course, I usually encounter different people at each conference. However, if I delivered the SAME presentation at ICE as I did at DevLearn, I would have felt like I was falling behind as opposed to trying to lead our work in a new direction. Rather, I have been "forced" to continuously update my presentation because the audience is progressing in their awareness, knowledge, and willingness to give new things a try. This has been encouraging for me as a learning geek and helped me stay relevant and progress my thinking around the topics of content sharing, curation, and user-generation.
Since ICE concluded, several individuals have contacted me to continue the transformation conversation and help them apply these principles within their organizations. What's even MORE encouraging – not all of these people were at the conference. Thanks, Twitter and SlideShare!
I will deliver this presentation again by request at an online conference in July. While the themes and behaviors will remain mostly the same, I must again evolve the conversation to stay relevant and useful to my audience.
---
The OTHER stuff …
So if I only spent half of each day attending formal sessions, what ELSE did I do during ICE?
I checked in with the always awesome folks from Axonify to discuss our continued partnership and evolution of their approach and technology. I'll make it to Canada one of these days …
An instructional design manager from the international side of my company tracked me down. Before ICE, we didn't even know each other existed. He attended my session and requested a similar presentation for his team in the UK.  We also spent 2+ hours sharing stories and thinking about ways we could leverage one another's experiences across continents. More to come!
I met with an eLearning manager from a major financial institution in Dubai to discuss his strategic needs, specifically around reinforcement training for sales and support employees. We have continued our conversation via email post-conference.
I took a few naps.
I showed off my excessive theme park knowledge while waiting in a few attraction lines at Networking Night in Universal Studios/Harry Potter World.
Most importantly – I met plenty of new people and renewed existing relationships with amazing professionals who are excited about the work we do to help people get better at what they do. My PLN list is too long for this already too-long post, but I'll say that watching the final keynote next to the always-epic Dan Steer and my live #lrnchat with Will Constantine were particular highlights of the week. Sessions are great, but the PEOPLE make these events worth the time, effort, and money – every time.
---
Thanks for reading! I don't know if I'll be at ICE in Denver next year, but I'll cya at DevLearn or TechKnowledge in Vegas before then, right? 🙂
---
Did you attend ATD ICE this year? What did you think? What did you take away from your conference experience? How will this experience inform your future decisions to attend L&D events?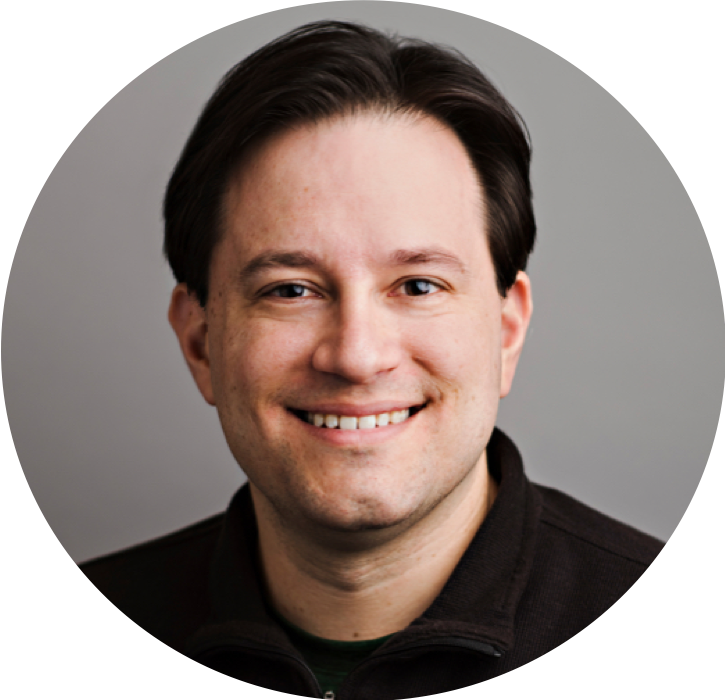 JD Dillon is one of the most prolific authors and speakers in workplace learning today. He has spent 20 years designing learning and performance strategies for respected global organizations, including The Walt Disney Company, Kaplan, Brambles, and AMC Theatres. JD is the founder of LearnGeek and Chief Learning Architect with Axonify.