It's been 10 days since I got home from DevLearn 2014 in Las Vegas, and I've almost recovered! 🙂
This was the first L&D conference that I have attended but not really "attended." By that, I mean that I didn't sit in on a single concurrent sessions or visit an expo booth. Instead, thanks mostly to the eLearning Guild (props to David Kelly), I attended my first DevLearn with a very specific agenda. So, rather than reflect on what I learned as an attendee, here's a breakdown of my DevLearn experience based on the various roles I played during my week in Vegas.
Stage Host
This is the role that got me to Vegas in the first place. Thanks to an invitation from David Kelly and the Guild, I had the opportunity to host the Management XChange Learning Stage in the Expo.  While standing in the corner of the expo hall for 2 days got a little tired by the end, it was great to meet the various presenters and attendees. Some presentations, like the discussion by WiseTail founder Justin Bigart, were quite insightful. Some were boring product overviews/pitches. Some were audibly drowned out by ice cream breaks held a little too close to the stage. And some, like the panel on bridging the gender gap with Cammy Bean, Julie Dirksen, Jennifer Hofmann, and Mark Lassoff, were super engaging and worthy of a larger "stage." Overall, everything went off without issue, and I enjoyed being a small part of the DevLearn team alongside fellow stage hosts Bianca Woods and Shawn Rosler.
Speaker
After 2 days of supporting others in sharing their messages, I got some time of my own as I presented 'Transforming Users into Contributors." I hope to write another post discussing the topic in more detail, and most of my deck (minus practical example imagery) is available on SlideShare. To summarize, I believe we (L&D) have a tremendous opportunity thanks to simple tech resources (social media, wikis, video, blogs, etc.) to mitigate many of our traditional problems (scalability, capacity, subject matter understanding) by enabling people to share information and build their own content. So, rather than spend our time acting as middleman between subject matter expert and user, we should become enablers that provide resources and drive the skills necessary to bring together those who know with those who need.
Approximately 70 people attended my session, which is a pretty solid number given that I spoke at 8:30am on the last day of the conference … in Las Vegas … and was scheduled against none other than Jane Bozarth. Overall, it felt like a good time was had by all, and I hope everyone walked away with at least one actionable idea. Here are a few participant comments shared via the DevLearn mobile app during the session:
Only halfway thru … By far my fave session this week #DevLearn #jddillon (Marlie Cardiff)

JD Dillon is all over the room. Is this mobile learning? 🙂 (Tao Le)

Great presenter. Great ideas. (Laurie Faas)

For me, first speaker to engage audience prior to start. Go JD! #DevLearn (Marlie Cardiff)

Already feeling invigorated by this session and presenter (Lynn Wilkinson)
Ashley Porter shared a shot of her awesome sketch notes …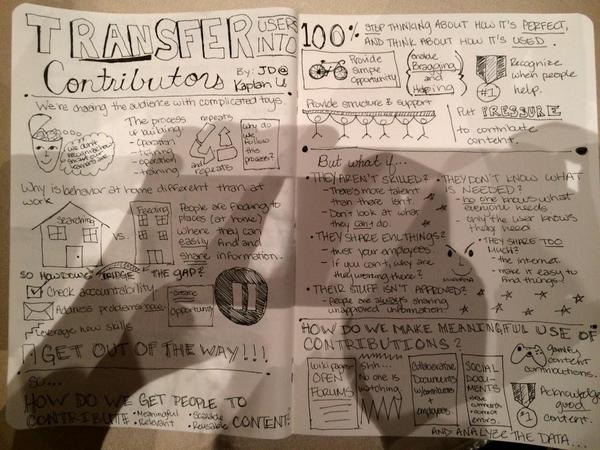 Kasper Spiro shared his nifty mind map …
As always, I enjoyed the opportunity to share my ideas and experience, and I look forward to discussing the evolution of this topic during my session at the ATD International Conference & Expo in Orlando in May, 2015.
Keynote Watcher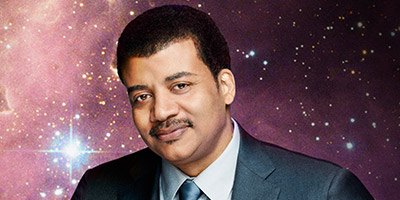 While I wasn't able to break away from my learning stage for any concurrent sessions, I was able to attend most of the 3 keynotes. Obviously, the buzz of the week was Dr. Neil deGrasse Tyson's opening keynote, and he delivered as expected (after a stellar intro from @LnDDave of course). He's just a brilliant, engaging, crazy, energetic speaker who cares about his work (aka the universe) so much that it just sucks you in. And his message is so simple … It's also super convenient for me that his message is focused on the importance of curiosity as part of the learning experience. I'd like to point out that I named my blog 'Just Curious' wayyyyyyy before I started paying attention to Dr. Tyson's message! 🙂
Side note – Dr. Tyson is currently taking to Twitter to point out scientific plot holes in the film Interstellar … Hilarious! Anyway, back to DevLearn …
The Guild always does a great job presenting a mix of keynote messages that effectively tie together with a central theme. This was true in the messages from Beau Lotto (how perception shapes the mind) and Belinda Parmar (workplace expectations related to women in technology). Given the way Lotto was manipulating our brains to prove his point, I was half expecting the presentation to end with a blue pill/red pill choice ala The Matrix. I also wish more people had stayed to engage in the lively give-and-take that was the final keynote with Belinda Parmar, but that's pretty much a conference attendee standard.
Vegas Newbie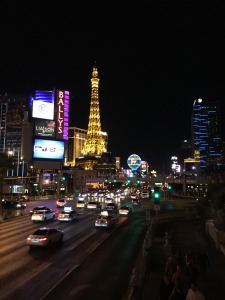 First time in Vegas … True story …
Thanks to my PLN, I had plenty to do throughout the week without having to navigate my way through the crazy number of options one has for (classy) entertainment on the strip … until the last evening. Because it's basically impossible to fly from Vegas to Orlando after 3pm on a Friday afternoon without making 4 stops over 17 hours, I stayed one additional night and left on Saturday morning. So, using Twitter and the conference app, I threw feelers out to see what people thought I should do with my last 17 hours in town. Clark Quinn suggested I find a book and retire to my room. Several friends wanted me to hunt down Britney. I just wanted to see a street performer imitating Allen from The Hangover, but I had accomplished that on the car ride from the airport already.
Luckily, I managed to connect with a small group of DevLearn stragglers all looking for a fun last night at the conference. No, nothing ridiculous happened … good clean Las Vegas strip on Halloween night fun …  which lasted until an impromptu breakfast at The Venetian at 4am.
However, after having a few adult beverages, one member of the crew uttered what was BY FAR my favorite (and most L&D geeky) quote of the week:
If I had to design a training right now, it would be all multiple choice!
For someone who definitely isn't a "Vegas person," it was a fun time, and I look forward to returning in just a few weeks for ATD TechKnowledge (presenter and conference panel member)!
Friend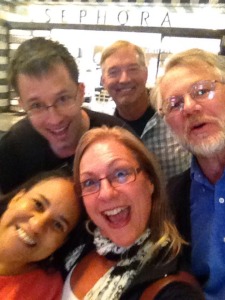 THIS is why I go to events like DevLearn. It's not about the sessions or the keynotes or the expos. If I want content or help with my work, I can find it online or engage industry peers remotely. For me, these events are all about connecting with people, establishing new relationships, and strengthening existing friendships.
I spent each evening in Vegas surrounded great groups of people who care about one another more than the work that originally brought us together. While we regularly engage online via Skype and Twitter, industry events like DevLearn give us a chance to transcend avatars and multitasked Twitter chats and really connect as human beings. I am always re-energized personally and professionally when I get home from a conference, and that was the case this time too. The Guild does an AMAZING job of fostering this type of community before, during, and after the conference, and that's what will keep bringing me back to speak/attend their events!
For those who know me personally, you know that DevLearn came at just the right time for me, as I've been having a pretty shitty few months … I'm thankful for every smile that was created and every hug and handshake that was offered during my time at DevLearn. It helped me more than I could ever explain.
---
So that was my DevLearn 2014 experience! Great! How about you? Did you attend or participate via the backchannel? Will I be seeing you at any upcoming events in 2015 (TechKnowledge, Training 2015, Learning Solutions, or ICE)?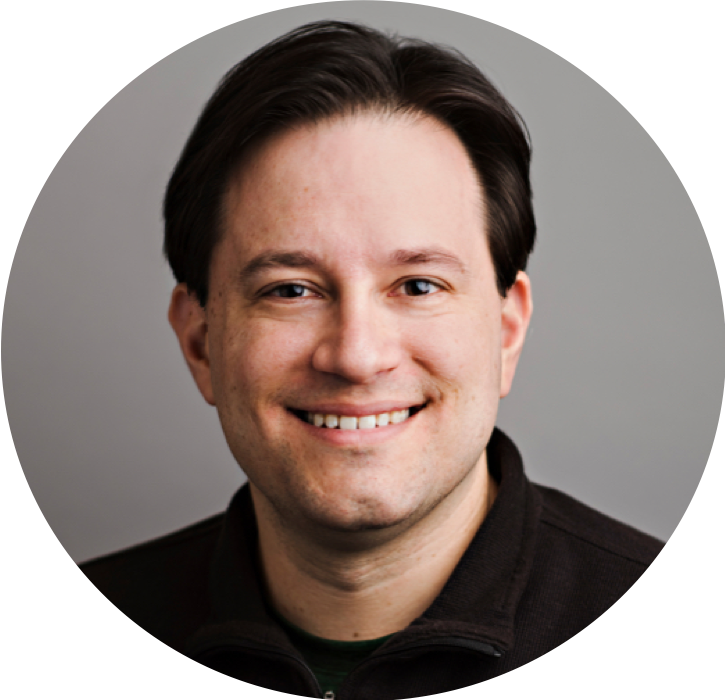 JD Dillon is one of the most prolific authors and speakers in workplace learning today. He has spent 20 years designing learning and performance strategies for respected global organizations, including The Walt Disney Company, Kaplan, Brambles, and AMC Theatres. JD is the founder of LearnGeek and Chief Learning Architect with Axonify.